R E V I E W B Y R I C H C L I N E

Bryan Singer's X-Men (2000) was a shockingly good comic hero movie, combining terrific action with a superior sense of character. Well, Singer is back with a bigger film (it's a full half-hour longer) that's just as good ... and perhaps even more satisfying.

"Sharing the world has never been mankind's defining attribute." It's the near future, and people are terrified of mutant humans (known as X-men) who have extra powers. Professor Xavier (Stewart) wants humanity to live together in peace, while Erik "Magneto" Lehnsherr (McKellen) wants mutants to rule the planet. Now these nemeses are forced to unite to save mutant-kind from another threat in the shape of the shady government man Stryker (Cox). The old X-men are all back, as well as a few new students (most notably Ashmore's Iceman and Stanford's Pyro) and a couple of intriguing strangers (Cumming's Nightcrawler and Hu's Yuriko). A showdown is brewing....

Everything about this film is just too cool for words. Singer comes up with so much inventive stuff that it takes your breath away--from massive set pieces to amazing stuntwork to tiny details. The actors all give meaty performances. Once again, this is essentially Wolverine's story and Jackman really shines in the role. Janssen's Jean Grey and Romijn-Stamos' Mystique get much more central roles this time, and they're both terrific. While Paquin's Rogue takes a slight step back into the ensemble this time. And newcomers are excellent: Cumming is the standout--meaty, intriguing, constantly surprising--while Ashmore and Stanford set their characters up extremely well for X3. And the sharply intelligent script, while not easy to follow (pay attention!), is jammed with hilarious comments, asides and unexpected moments of emotional resonance. It's also full of subtext examining issues in our society without being blatantly obvious. This is what sets these films so far out front of other blockbusters: a sense of meaning and purpose behind the action. And as a sequel, it pushes all of the characters further, takes the story into a whole new level and never lets up for a second.






| | | |
| --- | --- | --- |
| | themes, violence, language | 17.Apr.03 |
dir Bryan Singer
scr Michael Dougherty, Dan Harris
with Patrick Stewart, Ian McKellen, Hugh Jackman, Brian Cox, Famke Janssen, Halle Berry, Alan Cumming, Anna Paquin, Rebecca Romijn-Stamos, James Marsden, Kelly Hu, Shawn Ashmore, Aaron Stanford, Katie Stuart, Cotter Smith, Bruce Davison
release UK 1.May.03; US 2.May.03
Fox
03/US 2h15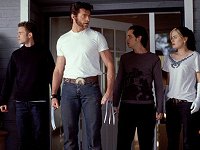 What do we do now? Four X-men (Ashmore, Jackman, Stanford, Paquin) face yet another obstacle...

Special Report:
SHADOWS MEETS THE X-MEN!
---
X-MEN (2000)
X-MEN: THE LAST STAND (2006)
WOLVERINE (2009)
X-MEN: FIRST CLASS (2011)