R E V I E W B Y R I C H C L I N E

There's a hint of serious subtext running beneath the surface that just about makes this ludicrous comedy bearable. Otherwise, it's contrived and over-sweetened but still adequately entertaining. Daphne (Bynes) is a sparky 17-year-old New Yorker who has never met her English father, the legendary Lord Dashwood (Firth). Her mother (Preston) has been her whole family, and she finally decides it's time to meet Dad. So off to England she runs, where she turns her father's well-ordered life upside down, threatening his devious fiancee (Chancellor), whose own father (Pryce) is a political manipulator with big plans for Dashwood. There are other wrinkles involving Dashwood's knowing-but-eccentric mum (Atkins), the spiteful potential stepsister (Cole) and a cute-but-scruffy musician (James).

The entire plot is apparent within about five minutes of the opening credits, so the only fun to have is in the way they get there. Alas, the plot itself isn't remotely original, relying on terribly British cliches (London Calling on the soundtrack, again?) and corny situations where even a tiny bit of creativity and intelligence would have made it so much better. Fortunately, the performances are good, and Firth is especially solid as a man confronted with his past in a rather shocking way. His scenes with Bynes are excellent, and give the film a real heart, as do Bynes' scenes with Preston, who adds some weight to the normally throwaway wacky-mom role. But essentially what we have here is another cute romantic fantasy aimed at 13-year-old girls and no one else (see also the much-worse The Princess Diaries). And on that level it's a triumph.
| | | |
| --- | --- | --- |
| | themes, mild language | 23.Apr.03 |
dir Dennie Gordon
scr Jenny Bicks, Elizabeth Chandler
with Amanda Bynes, Colin Firth, Kelly Preston, Anna Chancellor, Jonathan Pryce, Eileen Atkins, Oliver James, Christina Cole, Ben Scholfield, Sylvia Sims, Roger Ashton-Griffiths, James Greene
release US 4.Apr.03; UK 6.Aug.03
Warners
03/US 1h40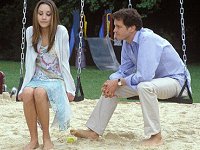 Father and daughter. Daphne (Bynes) spends some quality time with her newly discovered dad (Firth)...





Beatrice Miller, North Brunswick: "I liked this movie! There are too many sci-fi, violent movies abounding the screens todate, and I find it refreshing to just sit back and enjoy a little fantasy such as this film. It takes me back to the simpler times, when I was a child. I am 77 years old now, but I grew up on movies that gave you respite from the trials and tribulations of the day. Things such as having sufficient food on the table, having employment for the head of the house, dealing with the various prejudices of the world, etc. So I say this film is just perfect to be simply taken as a respite from the cares of the world." (1.Aug.03)

kay t oriumi, northbrook IL:

"As a mother and grandmother, enjoyed this film. it may be a fairy tale type, but can't we use some of this at these times. It just hit me 'right there'. Only problem was I couldn't find it in the library video/dvd section. they only kept it in the children's section. Don't think it is just for children. but for all ages including older women." (27.Oct.04)