R E V I E W B Y R I C H C L I N E
This film is so stunningly beautiful to look at--and such an uplifting story--that you can understand why it has won so many audience awards at festivals all over the world (including Sundance and Toronto). It's a gorgeous fable from New Zealand about the balance between the old and new worlds, tradition and progress, superstition and faith. At the centre is Pai (Castle-Hughes), a young girl whose life began with tragedy when her mother and twin brother died in childbirth. Her grandfather, the Maori chief Koro (Paratene), had been pinning all his hopes for their tribe on this baby boy. His eldest son (Curtis) has turned his back on his god-given responsibilities, leaving New Zealand and leaving Koro and his wife (Haughton) to raise Pai. Koro is so blinded by disappointment and traditional sexism that he simply cannot see that Pai might be just what the tribe needs in a leader. So he looks in all the wrong places.

The story is very simple, and writer-director Caro it very straightforwardly, starting with the myth of the whale rider who brought the Maoris to New Zealand in the first place. We never have any doubt about who the real future chief will be, but Caro keeps us interested through details that capture our imagination--cultural life, story twists, stunning imagery. Yes, this is an uncomplicated parable about letting go of the things that hold us back, even if they're time-honoured traditions. But it's elevated to timeless cinema by the raw beauty of the setting (the residents refer to it as a dump, even though it's staggeringly beautiful), the strong themes in the story and fine performances all around. Castle-Hughes is fantastic, grabbing hold of the screen and never letting us go; her range of expression and intelligence is remarkable! Meanwhile, Haughton shines as Pai's tenacious, quietly rebellious grandmother--she knows the truth even if she makes sure she never rocks the boat. There are enough of these subtleties to make the childlike tale spring vividly to life, especially in a climactic sequence that combines emotion with brute physicality.
| | | |
| --- | --- | --- |
| | themes, some suspense | 19.Mar.03 |
dir-scr Niki Caro
with Keisha Castle-Hughes, Rawiri Paratene, Vicky Haughton, Cliff Curtis, Grant Roa, Mana Taumaunu, Rachel House, Tammy Davis, Taungaroa Emile, Mabel Wharekawa-Burt, Rawinia Clarke, Tahei Simpson
release US 6.Jun.03; UK 11.Jul.03
02/NZ 1h45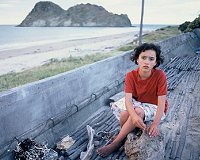 At sea. Pai (Castle-Hughes) is caught in a struggle between the old and new ways...

• TOP 10 FILM


Feli, Munich: "I have been travelling in New Zealand this year and over there I saw Whale Rider twice! This movie is gorgious -- you have to start crying after 1 minute and you can't stop it, because the story is bewitching. The pictures of the landscape and all the characters fit so well! The story is kind of quiet and very sensible. And it is perfect to see the movie in New Zealand because it is made there. I wished they would show it in Germany." (27.Mar.03)

Sarah, net:

"I watched this movie with my class and it is so emotional and it really captures you in. i highly recommend this movie/book to everyone. it is such a moving story." (5.Feb.06)