R E V I E W B Y R I C H C L I N E

Spike Lee's latest is another hard-hitting, unsubtle drama that gets well under the skin of its characters and settings. The story takes place over the last 24 hours of freedom for Monty Brogan (Norton), a drug dealer who suspects that his girlfriend (Dawson) might have turned him in to the cops. So on his last day he roams post-11 September Manhattan, eventually meeting up with his childhood friends: Jake (Hoffman) is a school teacher who has a bad crush on a seductive 17-year-old student (Paquin), while Frank (Pepper) is a go-getter Wall Street trader. And in his general attempt to sort out the loose threads of his life, Monty also spends some time with his Irish pub-owning father (Cox). All of these people are intertwined with Monty's crimes, but he's the one who will do the time.

The film has a gentle, meandering pace that draws us in and takes us beneath the surface. The characters are extremely well-written and played with complexity and continual revelations. Surprisingly, Dawson gives the stand-out performance as a young woman caught in the middle of virtually everything. There's a depth to each of the characters that keeps us interested, even as the plot seems to drag on a bit. Besides the general confusion of the premise (there doesn't seem to have been a trial; do all convicted criminals get a day at large before being locked away for seven years?), the film's structure is somewhat unfocussed. We never quite know where or when we are, with frequent flashbacks and an extended fantasy sequence at the end. Not that it matters really, as the film weaves together a lovely picture of one life. But Lee again refuses to let the themes emerge organically. There's a fierce speech early on (nicely echoed later) that makes it all quite clear; there's a parallel story about a dog Monty to whom gives a second chance at life (geddit?); and the final act moves the film from a gentle drama to a chilling cautionary tale about personal responsibility.
| | | |
| --- | --- | --- |
| | themes, language, violence | 15.Jan.03 |
dir Spike Lee
scr David Benioff
with Edward Norton, Philip Seymour Hoffman, Barry Pepper, Rosario Dawson, Anna Paquin, Brian Cox, Tony Siragusa, Levani Outchaneichvili, Tony Devon, Misha Kuznetsov, Isiah Whitlock Jr, Michael Genet
release US 19.Dec.02; UK 25.Apr.03
Touchstone
02/US 2h15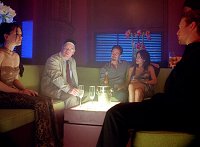 Farewell party. The gang gathers in a Manhattan hot spot (Paquin, Hoffman, Norton, Dawson, Pepper)