R E V I E W B Y R I C H C L I N E
This is the third Spy Kids romp in as many years, this time in 3D, which is cool visually but does make your head hurt. And combined with a more action-oriented plot, it's all a bit less fun this time.

Basically it's Spy Kids meets Tron, as the now-retired agent Juni (Sabara), at the tender age of about 10, returns to rescue his sister Carmen (Vega), captured in a videogame by the sinister Toymaker (Stallone), who plans to take over the world's youth with his newest game. To do this he'll need help from new friends (Pinkston, Vito, Edner and Jines), his parents (Banderas and Gugino) and his grandfather (Montalban), who has a history with the Toymaker. And he'll also need virtually all the characters from the previous films as well.

Clearly, Rodriguez has an endless imagination, once again going wild with inventive action, whizzy gadgets, witty plotting and funny nods at other films that keep adult audience members along for the ride. Not only does Rodriguez do virtually every job in the crew (including cinematography, music, editing and effects), but he also corrals a gigantic ensemble cast of A-list stars who clearly enjoy working out of the mainstream.

It's terrific to see Montalban given such a strong, vigorous role; Stallone has a great time with multiple characters; and Wood's scene is hilariously absurd. Of the junior cast, the performances are strong from everyone except, strangely, Sabara; he seems to have been under-directed, lacking the subtlety of those around him. And while the film as a whole is still good fun, it lacks the freewheeling glee of the first two. Not only is it a more sober story, but it's more hard-going due to the red-blue 3D, which is shadowy and rough on the eyes, especially in the darker scenes.

As a result the film feels slight and rather lacklustre, despite the frenetic action. The heavily animated imagery makes it look like scenes were shot solo on a green stage without anyone else to interact with ... and indeed during the credits we get behind-the-scenes clips that show exactly that. Maybe in Part 4 they can interact with each other--and with us--a bit more!
| | | |
| --- | --- | --- |
| | some suspense and violence | 28.Jul.03 |
dir-scr Robert Rodriguez
with Daryl Sabara, Alexa Vega, Antonio Banderas, Carla Gugino, Sylvester Stallone, Ricardo Montalban, Salma Hayek, Mike Judge, Ryan James Pinkston, Robert Vito, Bobby Edner, Courtney Jines, Emily Osment, Elijah Wood, Alan Cumming, George Clooney, Steve Buscemi, Tony Shalhoub, Bill Paxton, Holland Taylor
release US 25.Jul.03; UK 1.Aug.03
Dimension
03/US 1h24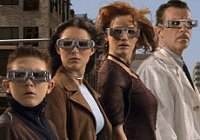 The Cortez family saves the world again ... in 3D: Sabara, Vega, Gugino and, Banderas.



See also:
SPY KIDS (2001)
SPY KIDS 2 (2002)
SPY KIDS: ALL THE TIME IN THE WORLD (2011)