R E V I E W B Y R I C H C L I N E
This tale of methamphetamine addiction is almost hypnotic in its stylish approach, directed by music video wunderkind Akerlund from the perspective of the addicts themselves. This makes the film a serious adrenaline rush ... and a sobering letdown. At the centre is Ross (Schwartzman) a nice guy meths-user who meets a needy stripper (Murphy) and ends up working as a driver for her "cook" boyfriend (Rourke) in exchange for drugs. Meanwhile, Ross' low-life dealer (Leguizamo) is having trouble with his girlfriend (Suvari), while one of his best customers (Fugit) has just been picked up by a couple of bent cops (Stormare and Arquette).

The overall plot interweaves each person's story (and several others) brilliantly, bringing in telling cultural references (video games, reality TV, trailer trash) to add both humour and reality to the tale. The performances are astonishingly strong--edgy and kinetic, open and fearless. Murphy is especially good in this sense; and it's terrific to see Rourke shine in a much larger role than we've seen him in lately (such as that camp drag queen cameo in Animal Factory). The script wisely avoids sermonising, sticking closely to the insider's perspective and just taking us along for the ride. It's cautionary without ever being preachy, which is no mean feat. It's also very, very funny as it lets us laugh at the absurdity of these people's deeply deluded lives. But the main star here is Akerlund, who infuses the film with visual flourishes that make it feel almost animated, from washed-out photography and machine-gun-fire editing to zany cutaways and extreme close-ups. He takes heavy inspiration from Darren Aronofsky's Requiem for a Dream, especially in the drug-rush jolts, and as a result the film doesn't feel quite as original as it should be. But Aronofsky's film was mature and thoughtful; this is almost comically offhanded. And in some ways, it's actually more deeply affecting this way, because it seductively draws us in. Could this be me?
| | | |
| --- | --- | --- |
| | strong adult themes and situations, drugs, nudity, language | 5.Aug.03 |
dir Jonas Akerlund
scr Will De Los Santos, Creighton Vero
with Jason Schwartzman, Brittany Murphy, Mickey Rourke, Patrick Fugit, John Leguizamo, Mena Suvari, Peter Stormare, Alexis Arquette, Chloe Hunter, Deborah Harry, Larry Drake, Eric Roberts
release US 14.Mar.03; UK 28.Nov.03
02/US 1h40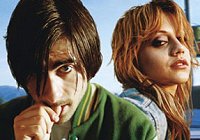 Looking for the next fix: Schwartzman and Murphy.