R E V I E W B Y R I C H C L I N E

The surprise (and deserving) winner of the Best Animated Feature Oscar, Miyazaki's ambitious and beautiful film has the ability to get under our skin like few movies ever do. The 10-year-old Chihiro (voiced by Chase) is seriously unhappy that her parents (Holly and Chiklis) are making her move. On the way to their new home, they stumble across an abandoned theme park and decide to explore it. But things quickly go wrong; Mom and Dad disappear and Chihiro starts encountering extremely surreal people who work in a bathhouse for spirits. A boy named Haku (Marsden) offers to help her escape the clutches of the bathhouse boss Yubaba (Plechette) and rescue her parents. But it isn't as easy as she hopes it'll be.

First of all, Disney has sensitively adapted this film into English, maintaining Miyazaki's complexity and depth, never undermining the cultural textures and not remotely Disney-fying it at all. It looks and plays out unlike any animated film you've ever seen (unless you're an Anime fan)--it's far more layered and interesting as it lets us unearth meaning that applies specifically to us. Essentially, this is a tale of self-discovery as Chihiro finds not only the inner strength she needs to cope with events far beyond her wildest imagination, but also the skills and talents inside her. Miyazaki tells this story with breathtaking imagery and an almost overwhelming sense of originality. It's hard to recall a film that has filled me with this degree of wonder and expectation--I never once had a clue what would happen next, and I could hardly wait for the next plot twist or astonishing set piece, not to mention what visual magic Miyazaki still had up his sleeve (and he has plenty!).

The central theme has to do with cutting through surfaces to the real person underneath, and virtually every character goes through a series of astonishing transformations that reduce us as viewers to bewildered children. In this sense, maybe it's a film for young people after all; they will have less trouble identifying with it and letting it carry them off somewhere amazing. But perhaps this is why we grown-ups need to see it even more than they do! If like Chihiro's parents you're unable or unwilling to accept the unexplainable and learn from the intangible, then the film will no doubt leave you cold. The rest of us, though, will feel like we've traveled somewhere wonderful ... and surprisingly revealing.
| | | |
| --- | --- | --- |
| | themes, some grisliness | 29.Mar.03 |
dir Hayao Miyazaki
scr Hayao Miyazaki, Cindy Davis Hewitt, Donald H Hewitt
voices Daveigh Chase, Jason Marsden, Susan Egan, Suzanne Pleshette, John Ratzenberger, David Ogden Stiers, Lauren Holly, Michael Chiklis, Tara Strong, Colleen O'Shaughnessy
release US 20.Sep.02; UK 12.Sep.03
Disney
02/Japan-US 2h05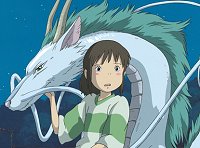 Otherworldly. Chihiro encounters some rather intriguing and scary spirits during her odyssey...