R E V I E W B Y R I C H C L I N E
dir John Woo
scr Dean Georgaris
with Ben Affleck, Aaron Eckhart, Uma Thurman, Paul Giamatti, Colm Feore, Joe Morton, Michael C Hall, Peter Friedman, Kathryn Morris, Ivana Milicevic, Christopher Kennedy, Callum Keith Rennie
release US 25.Dec.03; UK 16.Jan.04
Paramount-DreamWorks
03/US 1h50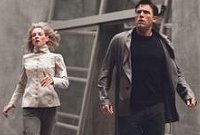 Lost in translation: Thurman and Affleck


As least the title's appropriate: It's about a guy who will do almost anything as long as there's a big payout at the end. And that seems to be a pretty decent description of the entire cast and crew of this limp thriller, based on a futuristic Philip K Dick story. Although why they've reverted to paper cheques is anyone's guess.

Jennings (Affleck) has built a rather intriguing career stealing technological secrets and then getting his pal (Giamatti) to erase his memory so he has no knowledge of what he's done. This makes his clients very happy, since what he's doing is highly illegal (what the police would say about his crimes is never actually explored). Anyway, another friend (Eckhart) offers him a much bigger job that'll require losing three whole years of his life, but the money is too tempting to turn down. As is the voluptuous scientist (Thurman) working in the lab. Three years later his mind has been blanked, but something's not right. And all he has is an envelope of seemingly random objects to sort out the mess, save the planet, get the girl and so on.

The idea is interesting enough, even if it's plotted far too conveniently to hold water. Affleck is bland but likeable; most of the decent cast merely fill their roles without adding anything to them. Only Thurman injects some feistiness into the film. But the big surprise is Woo, an energetic filmmaker who here seems to have become a rent-a-hack. Besides some nifty shattering glass and the perplexing appearance of one of those slo-mo doves he likes so much, anyone could have directed this. It lacks pace and inventiveness, never drawing anything meaningful or exciting from the premise. It's watchable and smart enough to avoid being dull, but doesn't involve us on any level, and at the end we wish we could delete the previous two hours from our memories. But never fear: You won't remember it five minutes later anyway.
| | | |
| --- | --- | --- |
| | themes, violence, language | 26.Dec.03 |