R E V I E W B Y R I C H C L I N E

The only things taken from the 1969 British classic are the engineered traffic jam and Mini Coopers. Otherwise, this is just another slick Hollywood caper adventure with the usual mix of characters, a lot of inventive action and a pasted-on romance. After being badly betrayed while doing an elaborate heist in Venice, Charlie (Wahlberg) and his gang (driver Statham, techie Green, explosives specialist Mos Def) are out for revenge against Steve (Norton). They draft in the daughter (Theron) of their former safe-cracking expert (Sutherland) to recapture some $30 million in gold bars that are now in Los Angeles, and they start planning an elaborate heist that keeps changing by the hour as new wrinkles emerge.

Despite leaving out the charm and cheekiness of the earlier film, this is an efficient and enjoyable romp. Gray's adept direction is fairly anonymous, relying on the action scenes to propel the film. The key is a decent script full of humorous touches and nicely underplayed by the cast. Wahlberg is bland as ever, but manages to hold things together, helped by the sexy and emotional Theron and the cocky and hilarious gang around them. The plot has some good twists in it, avoiding the expected for something we never see coming, even though what happens isn't terribly creative really. It's the kind of film that's great fun to watch, even though we never have any doubt at all how it will end up, especially as gears up for the requisite extended climactic action sequence. You can almost feel the filmmakers straining to come up with something new: "Hey, how about flying a helicopter in a tunnel underneath downtown" (erm, didn't they see Mission Impossible?). But never mind, there's nothing wrong with this film--it's fun and engaging, and once you realise that it's nothing like the original, you hardly miss that film's camp wit and freewheeling spirit. Much.
| | | |
| --- | --- | --- |
| | themes, language, brief violence | 20.Jun.03 |
dir F Gary Gray
scr Donna Powers, Wayne Powers
with Mark Wahlberg, Charlize Theron, Jason Statham, Edward Norton, Donald Sutherland, Seth Green, Mos Def, Franky G, Olek Krupa, Boris Krutonog, Gawtti, Aaron Speiser
release US 30.May.03; UK 19.Sep.03
Paramount
03/US 1h41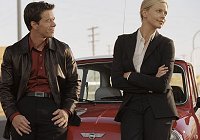 Heroic trio: Wahlberg, Theron and the film's real star...






See also: CAST Q&A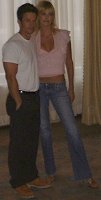 Shadows attended a press conference with Mark Wahlberg and Charlize Theron, in London to publicise their remake of the classic British film The Italian Job. Oh, excuse me: Homage. While Wahlberg seems strangely short and stocky (albeit very muscly), Charlize is a statuesque beauty oozing movie star glamour. Both were sharp and witty, and they teased each other mercilessly. Words and (dodgy) pics by Rich Cline...
On remaking a British classic...
Charlize: I didn't know about the original film. I wish I could say I did, but in South Africa we're so behind on movies. I caught up with it with all the other guys after reading the script.
Mark: I saw the original about 30 minutes after putting down the script. Then I immediately gave it to my dad, who loves heist movies and had never seen it. I think people who are die hard fans of the original will like what we've done -- not a remake, an homage.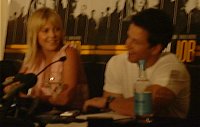 Charlize: We weren't even trying to touch the original. We didn't try to outdo the cliffhanger, which is one of the great film endings. And you can't try to redo the car scenes.
Mark: Die hard fans are more certainly sceptical but they've approved of it. And the original has now found a life of its own in America. It would have been great to have Michael Caine in the movie, but he was busy doing something else, so Donald Sutherland took the role. He was great to work with.
Charlize: I never had a scene with Donald Sutherland, but there's a scene where I talked to him on the phone. He was in Romania doing Cold Mountain and he cleared out his whole day for me to do the scene and be at the other end of the phone for me.
Mark: He was even insistent on doing the scene where he's in the canal in Venice without a double!
Charlize: I was really impressed by that. Then at the Venice Film Festival I finally got to meet him and he's this really tall man who came up and put his arms around me -- lovely man.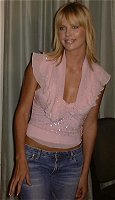 On the characters...
Mark: I've never been asked to smile and wink before. This was a challenge. The audience had to like these guys. George Clooney is great at it -- when you're that good looking! He taught me how to chew scenery.
Charlize: As the only woman in the ensemble I had to deal with a lot of testosterone. At first Gary planned this big heist without me, all of them stole something from a Paramount office. I was left out, but I found out and made sure I was in from then on and it was a lot better. I grew up on a farm and I'm about 50-50 tomboy. I raced a lot of go-carts and dirtbikes, but also started ballet at 4, so the princess syndrome is there too.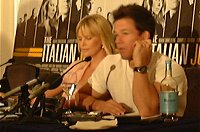 On the stunts...
Mark: Charlize had eight stunt doubles! No, she was the most gung-ho of all the cast, the most daredevil of the group. She always wanted to race.
Charlize: Well why would you want to race when you'd have to stop and throw up?
Mark: I have an excuse for that!
On a sequel or franchise...
Mark: I think we'd all be interested in a sequel if the material was good. A great story and location. The Brazilian Job sounds good to me.
Charlize: The Bahama Job!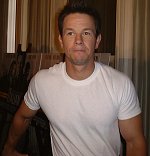 On being the King of Remakes...
Mark: With Planet of the Apes, it was a dream of mine to work with Tim Burton. I'm not a fan of sci-fi, but I'd do anything with Tim. They wanted to make a sequel, but Tim said he'd rather jump out a window, so I'll probably follow him out the window!
On parenthood less than two weeks earlier...
Mark: The big event was the most amazing thing I've ever seen. Just as they all said it would be. Now no more Boogie Nights! When kids are going to school the other kids can be really mean. Hopefully I'll get some kids movies in there.