R E V I E W B Y R I C H C L I N E

The latest stroke of genius from Disney-Pixar, this is an involving and gorgeously well-made underwater comic adventure that actually delves a bit deeper than their previous collaborations (Toy Story, Monsters Inc).

The story is pure Disney: A nervous single-dad clownfish named Marlin (voiced by Brooks) watches in horror as his only son Nemo (Gould) is scooped up in a net. So he overcomes his fears to swim off to the rescue, teaming up with a forgetful blue fish named Dory (DeGeneres) as they encounter a trio of sharks (Humphries, Bana and Spense), a deep-sea angler fish, a forest of jellyfish, greedy seagulls and the belly of a whale. Meanwhile, Nemo is in a dentist's office aquarium plotting his escape with the scarred tank leader Gill (Dafoe).

While the film is jammed with the usual comic asides--references to movies, pop-culture jokes and hilarious gags--there's a serious feel to the film that catches us off guard. It's an expansive epic journey, and the undersea setting makes it feel powerful and dense. The animators have outdone themselves to recreate the ocean's colours and textures, surprising creatures and life or death struggles. It's exciting, scary, witty and amazing, all at the same time.

And the characters are vivid enough to hold our interest and draw us into the story in several unusual ways as we identify with Nemo's desire for respect, Marlin's voyage of discovery, Gill's bitter regret and Dory's infuriating forgetfulness! And all of the elements work together beautifully, from the first-rate vocal work to Thomas Newman's lush score. For obvious reasons (no toys!), this feels like a much more grown-up film than previous Disney-Pixar movies. Although just like the earlier efforts, it'll appeal to us grown-ups as much as the kids.
| | | |
| --- | --- | --- |
| | themes, suspense | 8.Jul.03 |
dir Andrew Stanton
scr Andrew Stanton, Bob Peterson, David Reynolds
voices Albert Brooks, Ellen DeGeneres, Alexander Gould, Willem Dafoe, Geoffrey Rush, Barry Humphries, Eric Bana, Bruce Spence, Allison Janney, Austin Pendleton, Vicki Lewis, John Ratzenberger
release US 30.May.03; UK 3.Oct.03
Disney-Pixar
02/US 1h41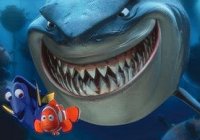 Mmm! A snack! Dory and Marlin try to outrun Bruce the shark.



---