R E V I E W B Y R I C H C L I N E

Eddie Murphy reteams with his Dr Dolittle 2 director for another family comedy that's laced with adult-pleasing humour. Here he plays Charlie, a successful marketing exec given the impossible task of selling a breakfast cereal called Veggie-O's to children. Of course it doesn't work, so he and his sidekick Phil (Garlin) are sacked. Charlie's wife (King) has just gone back to work as a lawyer, and without him working they can't afford to send their young son (Griffin) to the frightfully posh local day care centre run by the scarily efficient Ms Harridan (Huston). So Charlie and Phil decide to open their own alternative--cheaper and more fun. And after a few disasters they learn how to do it well enough that they hire another helper (Zahn). And Ms Harridan starts plotting revenge.

The plot is the worst thing about the film--obvious, silly and deeply unoriginal. It makes you long for filmmakers who had a bit more confidence in their material (and more trust in their audience). Because Murphy is on great form--funny, engaging and actually trying to make a gentle comment about sexual roles in suburbia ... but the story and the schmaltz get in the way. Garlin and Zahn are goofy and hilarious, but get little to do besides act childish; while Huston is in gleefully wicked mode, which she does rather well. Meanwhile, the screen is full of shamelessly cute kids, scene-stealers to the last one of them, and at least the film develops their personalities cleverly, drawing the comedy out of the characters rather than merely throwing them into slapstick situations. This isn't to say there aren't endless poo and fart jokes (there are), or that the film actually says something about the importance of childhood (it doesn't, although it tries desperately). But like most of Murphy's family-themed flicks, it's a perfectly enjoyable comedy the kids'll love and the grown ups will find surprisingly witty too.
| | | |
| --- | --- | --- |
| | language, vulgarity | 29.Jun.03 |
dir Steve Carr
scr Geoff Rodkey
with Eddie Murphy, Jeff Garlin, Steve Zahn, Regina King, Anjelica Huston, Khamani Griffin, Jonathan Katz, Kevin Nealon, Siobhan Fallon Hogan, Lisa Edelstein, Lacey Chabert, Laura Kightlinger
release US 9.May.03; UK 11.Jul.03
Columbia
03/US 1h32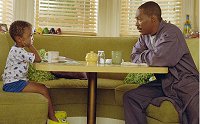 Parent/teacher conference: Griffin and Murphy.