R E V I E W B Y R I C H C L I N E

For his directorial debut, writer-actor Fry takes an ambitious approach to the British period film, adapting Evelyn Waugh's novel Vile Bodies into a lively and densely populated romantic comedy unlike any period film you've seen. It's the 1930s and society is full of beautiful young people living lives of unapologetic hedonism--parties, drugs, money, celebrity, aimlessness. At the film's centre is Adam (Moore), a penniless writer who needs money to marry his sweetheart Nina (Mortimer). Yet every time cash comes his way he somehow manages to deflect it! His colourful friends (Sheen, Woolgar, McAvoy, et al) are so caught up in their whirlwind lives that they're not much help at all. Neither are his editor (Aykroyd), Nina's dotty father (O'Toole) or a drunken major (Broadbent) who may owe him a fortune.

This is an impressive and engaging film, sparkling with wit and directed with real style. The cast is virtually note-perfect, from the leading youths to the older supporting actors and cameos from the likes of Jim Carter, Richard E Grant, John Mills and Margaret Tyzack. Moore is terrific as the only character we can identify with, while the hilarious Woolgar gets most of the laughs and Sheen holds the film's emotional heart. Aykroyd is fantastic in a small role, recapturing some of the acerbic glee and impeccable timing that made him a star in the first place.

Besides the fragmented, sometimes cacophonous structure, Fry's one misstep is relying on the romantic-triangle storyline to drive the film. Since the characters aren't meant to be terribly sympathetic, it's one of the weaker story strands and would have been more effective as a subplot. Much more inspiring is the underlying examination of a society caught up in celebrity worship even when the stars aren't famous for anything. Along with the general party atmosphere, this obsession with easy fame, fortune and newspaper gossip is provocatively relevant today! You can imagine Lady Victoria Hervey, Tara Palmer-Tompkinson and all the pseudo-celebs from Big Brother, for example, living that exciting-yet-meaningless lifestyle ... which we're still obsessed with.
| | | |
| --- | --- | --- |
| | themes, language, innuendo, drugs | 18.Aug.03 |
dir-scr Stephen Fry
with Stephen Campbell Moore, Emily Mortimer, Michael Sheen, Fenella Woolgar, James McAvoy, David Tennant, Guy Henry, Jim Broadbent, Dan Aykroyd, Peter O'Toole, Simon Callow, Stockard Channing, Julia McKenzie, Bill Paterson, Harriet Walter, Imelda Staunton
release UK 3.Oct.03
Icon
03/UK 1h44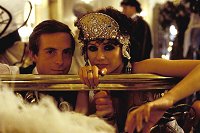 Sex, scandal, celebrity: Moore and Mortimer camp it up (above); Moore, Woolgar, Mortimer and Sheen get bored (below).