Shadows: Arthouse Films '03

On this page: THE BARBARIAN INVASIONS | CONCERT FOR GEORGE |
ONE: ON THE RUN | TWO: AN AMAZING COUPLE | THREE: AFTER LIFE
< < M O R E | M O R E > >
More mainstream art films have their own pages.
Even more offbeat films are at the SHADOWS FILM FESTIVAL.
last update 3.Dec.03

THE BARBARIAN INVASIONS [Les Invasions Barbares]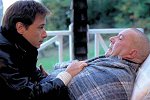 dir-scr Denys Arcand
with Remy Girard, Stephane Rousseau, Marie-Josee Croze, Dorothee Berryman, Johanne-Marie Tremblay, Yves Jacques, Marina Hands, Pierre Curzi, Louise Portal, Dominique Michel, Isabelle Blais, Mitsou Gelinas
release US 21.Nov.03; UK 20.Feb.04 • 03/Canada 1h49


winner Best Actress Croze and Best Screenplay at Cannes 2003
REVIEW BY RICH CLINE

Canadian filmmaker Arcand refuses to call this a sequel to his award-winning 1986 film The Decline of the American Empire, even though it features the same cast playing the same characters 17 years later. It's a sharp comedic drama about people facing unexpected truths about the world and each other. At the centre is Remy (Girard), an aging womaniser who's dying of cancer but hasn't lost any of his wit ... or libido. His high-flying London trader son (Rousseau) comes home to Montreal and his horrified by the state of Canada's health care system, so he starts paying for private treatment. Meanwhile, Remy is surrounded by his loyal exwife (Berryman), two former mistresses (Portal and Michel), various friends, a helpful nurse (Tremblay) and a young woman (Croze) who assists in a rather unconventional way.


Besides being a witty look at life, death and relationships, this is also a startlingly insightful examination of civilisation. The performances are so natural that we believe every character completely, and the dialog crackles with raw honesty and ruthless humour. Arcand takes well-aimed swipes at bureaucracy and government stupidity, carefully highlighting barbarian invasions such as terrorism and drug dealers. He dares to point out that in the great history of mankind, the terrorism of September 11th is insignificant. Although it does mark a serious shift for America, which had always fought others outside its borders (see Viet Nam and the Persian Gulf). But then, Arcand also points out that compared to the rampant genocide of the 19th century, the Holocaust is almost trivial. These are strong points made with remarkable gentleness; he's not trying to belittle anything, merely to put the world into some kind of perspective. As one character observes: History is a series of unforgivable crimes. We need to realise this ... and we need to understand what's really important in life. Strong stuff! [18 themes, language, innuendo, drugs] 6.Oct.03

CONCERT FOR GEORGE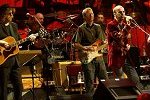 dir David Leland
with Eric Clapton, Jeff Lynne, Paul McCartney, Ringo Starr, Dhani Harrison, Billy Preston, Joe Brown, Tom Petty, Ravi Shankar, Sam Brown, Olivia Harrison, Tom Hanks, Michael Palin, Terry Gilliam, Eric Idle, Terry Jones
release US 3.Oct.03; UK 10.Oct.03 • 03/UK 1h45


REVIEW BY RICH CLINE

Besides being a terrific concert film, this movie documents the life of George Harrison through his songs and brief reminiscences with family and friends who gathered in the Royal Albert Hall on 29 November 2002, exactly one year after his death. Performing a wide range of Harrison's songs--hits like Something, anthems like My Sweet Lord, lesser known gems and even some of his favourites by other artists--you immediately get the sense that he was deeply loved by these people. This is not merely a starry concert event; it's a group of people celebrating the life and music of a friend. The fact that they are some of the most talented musicians on earth is almost beside the point. Their renditions of his songs are moving and powerful, and as the concert progresses the songs paint a picture of a man who was eccentric, spiritual and deeply loved.
Chris Menges' cinematography helps make this a superior concert movie--warmly photographed with strong colours and close-up camera work that gets into the expressive eyes of the artists while capturing the grandeur of the setting. George's eerily lookalike son Dhani plays guitar right in the middle of the stage, which adds a layer of meaning to virtually every shot. Besides just seeing all these performers together, highlights include semi-reunions of both the Beatles and the Travelling Willburys. And there are surprises as well, such the appearance of Monty Python with Hanks as a Lumberjack Song backing singer. There's also artistry in the editing, as the film cuts back and forth between the concert hall and the rehearsals, grabbing bits of dialog here and there that add to the music without distracting from it. Perhaps the only misstep is the blacked-out closing credits--why can't we watch these two songs (one of which is Give Me Love) being performed while the credits run? Still, this is definitely a film to catch in a cinema while you can. The DVD will be, of course, obligatory. [PG some risque comedy] 1.Oct.03

ONE: ON THE RUN [Cavale]
dir-scr Lucas Belvaux
with Lucas Belvaux, Catherine Frot, Dominique Blanc, Gilbert Melki, Patrick Descamps, Ornella Muti, Olivier Darimont, Alexis Tomassian, Yves Claessens, Christine Henkart, Jean-Henri Roger, Eric Vassard
release France 8.Jan.03; UK 14.Nov.03; US 30.Jan.04 • Canal+ 03/France 1h51


REVIEW BY RICH CLINE

French filmmaker Belvaux shot each tale in this overlapping trilogy using a different genre, and he takes the central role in this gripping and involving thriller. As it opens, Bruno (Belvaux) has escaped from prison and is returning to his career as a terrorist for the Popular Army. His former sister-in-arms (Frot) now has a loving husband (Darimont) and son, and has put activism behind her. But Bruno insists on drawing her in, because to him the ideals are still as valid as they were 20 years ago! As Bruno goes about his sinister business, he gets help from the junky wife (Blanc) of a dirty cop (Melki), discovers an enemy in a former partner (Descamps), and invades the quiet life of a woman (Muti) who hasn't a clue what's going on. But since he's now the sole member of this army, where is Bruno headed?
With very little dialog, Belvaux tells his compelling story in the actions of his characters--fascinating, involving and extremely complicated. Not only does the plot twist and turn, but the wonderfully played characters are all forced to make difficult decisions that often have fatal consequences. Our emotional link to the story is, surprisingly, not Frot's moving wife and mother, caught between an old alliance and a new reality; it's Bruno's bullheaded refusal to accept that fact that the world is not the same as when he went away. And Belvaux plays it brilliantly, with a tragicomic pathos that focuses on his inner resolve and growing confusion: a zealot without a cause. Meanwhile, the film looks terrific--grainy, moody and intense. And the mixture of violent revenge and political idealism is a potent one! The script seems effortless in the way it builds real tension and establishes even the smaller characters with insinuating details and subtext. Yes, it's a bit confusing and elusive, but it's also fascinating and involving right up to the clever and offbeat conclusion. [15 themes, violence, language, drugs] 25.Sep.03

TWO: AN AMAZING COUPLE [Un Couple Epatant]
dir-scr Lucas Belvaux
with Ornella Muti, Francois Morel, Gilbert Melki, Valerie Mairesse, Bernard Mazzinghi, Dominique Blanc, Catherine Frot, Lucas Belvaux, Raphaele Godin, Patrick Depeyra, Pierre Gerard, Jean-Baptiste Montagut
release France 1.Jan.03; UK 28.Nov.03 • Canal+ 02/France 1h37


REVIEW BY RICH CLINE

This is the rom-com episode in Belvaux's trilogy, but being a French film, it's not terribly romantic or comic really. It's more of a farcical examination of paranoia and assumptions centring on a couple that seems almost desperate to find something wrong with their solid marriage. Alain (Morel) is a hypochondriac who's finally convinced his doctor (Mazzinghi) to do exploratory surgery. But he's keeping this a secret from his wife Cecile (Muti), who thinks he must be having an affair. So she asks her friend's (Blanc) cop husband (Melki) to keep an eye on Alain. But of course now Alain starts wondering why Cecile is secretly meeting a strange man. Soon all their friends and colleagues are caught up in the spy-vs-spy chaos.
Everything about this film tries so hard to be frantic and zany that it basically leaves the viewer in the dust. It's almost impossible to keep up with the throng of characters coming and going--friends, family members, strangers--most of whom have little to do with the main storyline. These distractions make it virtually impossible to care about the story, while the way Alain and Cecile jump to one wrong conclusion after another makes us lose patience with them. The performances are solid, if a bit wide-eyed and goofy, but nicely conveying the increasingly frenzied desperation. And it's good fun to see this story intersecting with other people and events in the trilogy. Still, Belvaux really needed to establish the central characters before launching into the overcomplicated bedlam. If you can keep track of who's who (it was touch and go for me), there are some wonderfully funny sequences here and there. But without any sense of meaning or heart, these isolated scenes and people never add up to much. [PG themes, language] 17.Oct.03

THREE: AFTER LIFE [Après la Vie]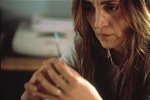 dir-scr Lucas Belvaux
with Dominique Blanc, Gilbert Melki, Ornella Muti, Catherine Frot, Lucas Belvaux, Francois Morel, Bernard Mazzinghi, Patrick Descamps, Olivier Darimont, Alexis Tomassian, Yves Claessens, Pierre Gerard
release UK 5.Dec.03 • 02/France 2h04


REVIEW BY RICH CLINE

The final chapter in Belvaux's trilogy is an intense drama that centres on a troubled marriage that's completely intertwined with several outside events. Belvaux not only brings together the characters and situations from the first two films, but he redefines the overall story and touches on some surprising themes. Pascal (Melki) is a cop with far too much on his plate: His wife (Blanc) is addicted to the methadone he provides for her. But now a local crime boss (Descamps) is blackmailing him to murder a renegade killer (Belvaux) in exchange for a continued drug supply. Meanwhile, Agnes' colleague (Muti) has asked him to spy on her husband (Morel), who she's sure is having an affair. And another teacher (Frot) has a disturbing past link to aforementioned renegade, who has a connection with Agnes as well! But Pascal's main worry is for Agnes' health and sanity, which he sees beginning to slip. Along with his own.
This is a harrowing story of addiction and co-dependence, strong and quite moving as it examines the desperate things we do for both love and self-preservation. Belvaux's direction is vibrant and telling, drawing out transparent performances that give us an all-new side to the characters, filling in holes and redefining relationships and situations. The film is just as confusing as the other two; there are too many characters and too many loose ends. Like the thriller (One) and the romantic comedy (Two), this film doesn't really stand on its own. You need the other films to make sense of everything! By itself it feels choppy and distracted, and perhaps a bit dull. But following on from the other two, it's a gripping drama that's both tender and creepy. And it reminds us that things quite often are nothing like they seem to be, even when we see them from three distinct perspectives. [15 themes, language] 3.Dec.03