R E V I E W B Y R I C H C L I N E

THE FINAL FLIGHT OF THE OSIRIS
dir Andy Jones; scr Larry & Andy Wachowski; voices Kevin Michael Richardson, Pamela Adlon, John DiMaggio, Tom Kenny, Tara Strong, Bette Ford; US 10m


Like Matrix-porn, it starts with a virtual reality fight between a man and woman that turns into a strip tease as they slice each other's clothing off! Then alarm bells ring and we're back in the tatty real world for a story that's referenced in the second film. Exciting but way too serious and self-important; the animation is startlingly realistic--beautifully rendered with virtual actors that look almost like flesh and blood.

THE SECOND RENAISSANCE PARTS I & II
dir-scr Mahiro Maeda; voices Julia Fletcher, Dane Davis, Debi Derryberry, Jill Talley, Dwight Schultz, James Arnold Taylor; Japan 9m & 9m


Traditional anime with a Matrix spin, this tells how machines developed consciousness and started demanding rights from humans. Very cleverly made, like a combination of documentary footage and TV clips, with heavy echoes of our own recent history. Part I centres on injustice, genocide and resistance;Part II on war, apocalypse and the birth of the matrix. Gripping, stunningly beautiful and quite violent ... and actually more moving and meaningful than the two feature films put together! Absolutely brilliant.
KID'S STORY
dir-scr Shinichiro Watanabe; voices Clayton Watson, Keanu Reeves, Carrie-Anne Moss, John Demita, Kevin M Richardson, James Arnold Taylor; Japan 9m


A hand-drawn style adds texture to this more traditional anime-style drama, which is set in between the two films as a teen (Watson) seeks answers to his nagging feeling that something isn't right with reality. Stunningly directed, with superb action scenes and real emotional resonance. This is drop-dead gorgeous animation, and a lovely little story, which features brief animated appearances from Neo and Trinity (Reeves and Moss). And a subtle, moody tone captures the feelings beautifully.
PROGRAM
dir-scr Yoshiaki Kawajiri; voices Hedy Burress, Phil LaMarr, John Di Maggio; Japan 7m


A more old-style Japanese animation here, with high contrast colours and extremely bold images that tell a story about rebels training in simulated environments. Lots of Morpheus-style mumbo jumbo, and a fairly uninteresting story that seems like a rejected subplot for one of the features. But the white-red-black visual style is lovely.
WORLD RECORD
dir Takeshi Koike; scr Yoshiaki Kawajiri; voices Victor Williams, John Wesley, Alex Fernandez, Allison Smith, Tara Strong, Matt McKenzie; Japan 8m


Fiercely original angular animation, with unusual washed-out colours, centring on an Olympic-type runner (Williams) who becomes aware of the whole matrix reality thing, which turns into a race for the finish line as he tries to outrun evil agents on the track. It's overdone and overdramatised, with manic characters, too much slo-mo and confusing jump-cutting.
BEYOND
dir-scr Koji Morimoto; voices Hedy Burress, Tress MacNeille, Kath Soucie, Tara Strong, Matt McKenzie, Jack Fletcher; Japan 12m


Inventive and visually arresting animation with an eerily real feel to it, even though it's also artistic and traditional at the same time. Set in a Japanese city where a young woman (Burress) is trying to find her lost cat and wanders into an abandoned house where reality starts slipping around her--time and space are freakishly fractured. What seems haunted is actually a glitch in the matrix program. Fascinating and seriously well-made, with astonishingly beautiful animation that looks like handheld camerawork.
A DETECTIVE STORY
dir-scr Shinichiro Watanabe; voices James Arnold Taylor, Carrie-Anne Moss, TC Carson, Matt McKenzie; Japan 9m


The grainy, predominantly monochrome animation looks brilliant, and nicely recreates an anime-meets-Raymond Chandler style. It's about a private eye (Taylor) trying to find Trinity (Moss), and there's a jazzy tone to the film along with the detective's mordant narration and Trinity's femme fatale role. Intriguing and quite complicated, it effectively merges the 1940s mystery style with the whole matrix universe, adding a strong dose of mystery and suspense.
MATRICULATED
dir-scr Peter Cheung; voices Melinda Clarke, Dwight Schultz, Rodney Saulsberry, James Arnold Taylor, Olivia D'Abo, Jack Fletcher; Korea 16m


There's an epic scale to this short, which is about a group of above-ground rebels trying to convert a captured robot over to the human side by creating a matrix for the machine, instead of the other way round. The animation is heavily stylised and absolutely spectacular, in a kind of 2001 sort of way--mostly wordless, using poetic images and colour to tell a story. Beautiful to look at ... and surprisingly moving too.
| | | |
| --- | --- | --- |
| | themes, violence, innuendo | 26.May.03 |
release US/UK 3.Jun.03 DVD
Warners
03/US 1h30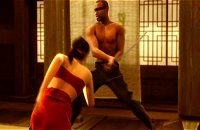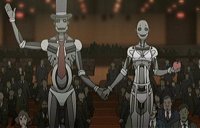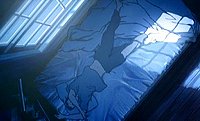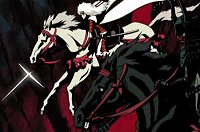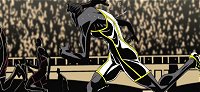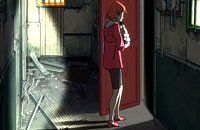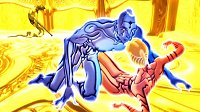 Also: THE MATRIX (1999)
THE MATRIX RELOADED (2003)