Water Drops on Burning Rocks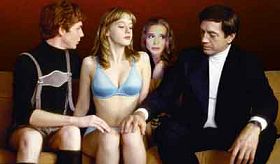 A wee bit complicated. Franz, Anna, Vera and Leopold (Zidi, Sagnier, Thomson, Giraudeau) are interconnected by a series of relationships, expectations, hopes and selfish desires....
aka Gouttes d'Eau Sur Pierres Brulantes
dir-scr Francois Ozon
with Bernard Giraudeau, Malik Zidi, Ludivine Sagnier, Anna Thomson
99/France

---
Review by Rich Cline

Based on Rainer Werner Fassbinder's play, Water Drops on Burning Rocks is a very clever, blackly funny examination of relationships. French filmmaker Ozon (Criminal Lovers) intriguingly keeps the action in 1970s Germany even though the cast speaks French, and he also sticks closely to the theatrical roots--there's only one set and four characters, and the narrative is divided into four acts. But it's a smart, gripping story that, despite its offbeat premise, has a lot to say.

When we first meet them, the 50-year-old Leopold (Giraudeau) has just intercepted the 20-year-old Franz (Zidi), who was on his way to meet his girlfriend Anna. Back at Leo's flat, the two engage in a series of mind games fraught with sexual tension leading inexorably to the bedroom. As the story continues, we see the stages of Leo and Franz's relationship as a series of increasingly complex reactions, expectations and realities that get even more complicated when Anna (Sagnier) and Leo's ex-girlfriend Vera (Thomson) show up.

From the promise of something new to the selfish boredom caused by repeated irritations, the script slices right through each character and scene with precision. Ozon's visual style is dead on, with terrific imagery balanced against solid, moving performances from the four cast members. And the underlying wit and cynicism bring the themes vividly to life as the stakes rise in the "game" Leo and Franz are playing with their lives and the lives of those around them. Yes, it's very arty and odd, but there's great stuff in here about the things that bring us together ... and keep us there.

[18--strong adult themes and situations, nudity] 10.Sep.00
US release 12.Jul.00; UK release 6.Oct.00
~~~~~~~ ~~ ~~~ ~~~~
READER REVIEWS
Still waiting for your comments ... don't be shy.

---
© 2000 by Rich Cline, Shadows on the Wall