Up at the Villa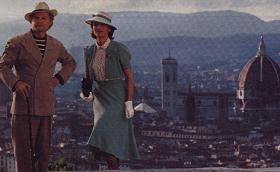 Room with a view: A fellow expat (Jacobi) takes Mary (Scott Thomas) on a tour of Florence.
dir Philip Haas • scr Brenda Haas
with Kristin Scott Thomas, Sean Penn, Anne Bancroft, Jeremy Davies, James Fox, Derek Jacobi, Massimo Ghini, Dudley Sutton, Lorenza Indovina, Roger Hammond, Clive Merrison, Linda Spurrier
Universal 00/UK

---
Review by Rich Cline

Based on the W Somerset Maugham novella, Up at the Villa is a tricky tale of love and intrigue among expats in Italy on the eve of World War II, roughly the same place and time (and characters) as Zeffirelli's Tea with Mussolini. But this is an altogether different kettle of fish--a more dark-edged drama about desire, trust and danger.

Mary (Scott Thomas) is a penniless young widow staying in a borrowed villa on the outskirts of Florence. In her desperate state, she is about to accept the marriage proposal of Sir Edgar, an older British diplomat (Fox). This delights the society lynchpin and gossip Princess San Fernando (Bancroft), an American who married rather well herself. Then while Edgar's away the princess introduces Mary to her friend Rowley (Penn), and Mary starts thinking about her future--and about love. Then an act of kindness toward a poor refugee (Davies) plunges her life into chaos and draws the interest of the local police chief/Nazi sympathiser (Ghimi).

As Mary's entire life is called into question, her conscience won't let her just get on with things as they were ... and Scott Thomas plays the role very well (no surprise there). And the other characters are just as intriguing, hinting at internal motivations, frailties and deceptions. Husband-wife team Belinda and Philip Haas craft the film very carefully, with a beautiful production design that feels nicely offhanded, while keeping the story just a step ahead of expectations. Even so, there's nothing terribly revolutionary about this film. Despite all the historical and personal intrigue, it's essentially just another well-made period romance.

[12--adult themes] 29.Feb.00
UK release 14.Apr.00; US release 12.May.00
~~~~~~~ ~~ ~~~ ~~~~
READER REVIEWS
Still waiting for your comments ... don't be shy.

---
© 2000 by Rich Cline, Shadows on the Wall