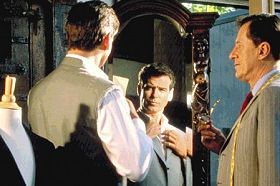 Play it again. Shifty British spy Andy Osnard (Brosnan) gets a suit from shifty tailor Harry Pendel (Rush).
The Tailor of Panama

dir John Boorman
scr Andrew Davies, John LeCarre, John Boorman
with Geoffrey Rush, Pierce Brosnan, Jamie Lee Curtis, Brendan Gleeson, Leonor Varela, Harold Pinter, Catherine McCormack, John Fortune, Martin Ferrero, David Hayman, John Polito, Dylan Baker
release US 30.Mar.01; UK 27.Apr.01
Columbia 01/Ireland

REVIEW BY RICH CLINE

This offbeat post-Cold War thriller mixes comedy with suspense ... and actually works quite well. Harry Pendel (Rush) is a Saville Row tailor in Panama City, married to a devoted, tough American (Curtis) and mixing with the high echelons of society. Then he's contacted by British spy Andy Osnard (Brosnan) who uses Harry's secret past to coerce him into finding out about the government's plans for the canal. But as Harry spins tales to keep Andy happy, events far above and beyond them begin to move toward all-out war.

Intriguingly, the film feels more like Elmore Leonard than John LeCarre (who cowrote the script from his novel) as we're both amused and gripped by its clever situations and characters, blending international intrigue with a heist comedy. The story's blackly comic elements come out with surprising cutaways and frequent appearances from Harry's dead mentor (Pinter), and the fringes are full of colourful characters such as Gleeson's drunken revolutionary, McCormack's feisty-yet-weak embassy attache, Fortune's befuddled-yet-smart ambassador and Baker's bloodthirsty general (although we don't get nearly enough of him!). Brosnan plays Andy as a 21st century Bond-- resourceful, arrogant and very lazy. And Rush is great fun as the fast-talking nice guy in far over his head. Boorman keeps things moving very quickly, nicely using the Panamanian culture and scenery and taking full advantage of the story's quirky locations (a brothel, a gay night club). It's very much like a sunny, modern take on Casablanca (something the script acknowledges more than once) with its twisted characters, none of whom are innocent or completely truthful. Yet there's something a bit slight about he whole thing, like it was made in a rush, with one disastrous edit at the end. Still, it's a thoroughly enjoyable romp, with much more subtext than most films like this.
| | | |
| --- | --- | --- |
| adult themes and situations, language, nudity, violence | | 22.Feb.01 |