Return to Me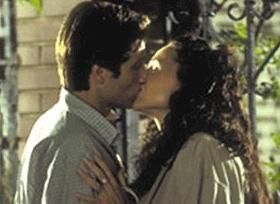 In his kiss: Bob and Grace (Duchovny and Driver) share a small kiss oblivious to the fact that they share something else as well...
dir Bonnie Hunt
scr Bonnie Hunt, Don Lake
with David Duchovny, Minnie Driver, Bonnie Hunt, Carroll O'Connor, Robert Loggia, David Alan Grier, Jim Belushi, Joely Richardson, Marianne Muellerleile, Eddie Jones, William Bronder
MGM 00/US

---
Review by Rich Cline

Apparently romantic comedies must have a gimmick, and Return to Me has a doozie ... one that makes it all a bit close to the bone. Fortunately though it's a very well-made film, with a fresh script and excellent performances that keep our interest and narrowly avoid the sentiment.

Bob and Elizabeth (Duchovny and Richardson) are deliriously happy--he designs and constructs buildings, she trains apes at the Chicago zoo. Then Elizabeth is killed in a tragic accident and her heart is transplanted into a needy patient, Grace (Driver), who lives with her protective grandfather (O'Connor) and their extended Irish-Italian "family" (Loggia, Jones, Bronder and the hilarious Muellerleile). A year later Bob and Grace meet, sparks fly and they embark on a gentle, measured romance. They don't know about the tragedy/miracle that connects them ... and what will they do when they find out?

Director-cowriter Hunt makes films the way she acts, with a sideways wry grin that never takes itself too seriously. The film is so nicely grounded in real people that the outrageous coincidence feels a bit jarring. But the strange balance of comedy and serious drama works because of Duchovny and Driver, who hit all the right notes, especially when dealing with the story's more intense issues. They're also surrounded by an outstanding supporting cast that includes Grier (as Elizabeth's coworker), Hunt and Belushi (as Grace's best friend and her husband). In some ways the gimmick wasn't really necessary--it's the only thing that makes the film feel awkward. The rest of it is sharp and clever and nicely against the grain of most sappy movies.

[PG--themes, language] 29.Mar.00
US release 7.Apr.00; UK release 9.Jun.00
~~~~~~~ ~~ ~~~ ~~~~
READER REVIEWS
"I went in thinking it was going to be just another sappy love story, with all the funny parts on the previews, but I was so surprised to find that not only did the main characters have wonderful chemistry, the supporting cast had impecable comic timing and kept the audience in gales of laughter most of the film. The premise of the film finds a contractor, Bob (Duchovny), married to a vet who dies in an accident. On the other side of town is Grace (Driver) lying in the hospital waiting for a new heart. Well, Grace gets the heart of Bob's late wife, and as fate would happen, they meet by chance and fall in love. Carrol O'Connor plays Grace's grandpa (with an Irish accent, no less) and he and his cronies continually meddle in the young couple's dates. From the looks of the cronies' scenes, they had a riot--and most of it appeared to be ad-lib. Other supporting cast members were Bonnie Hunt, who makes her directorial debut, and was very funny through the whole movie with great one-liners, and James Belushi who always gives a great comedy ride. This is definately one that you need to see twice since you miss so much the first time laughing. Enjoy! (Ladies, the guys will like this just as much as the girls.)" --Georgene G, Omaha.

---
© 2000 by Rich Cline, Shadows on the Wall