Ordinary Decent Criminal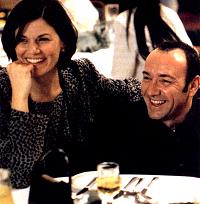 Nice guy: Michael Lynch (Spacey) might be a ruthless criminal, but he's also a solid family man with a gorgeous wife (Fiorentino).
dir Thaddeus O'Sullivan
scr Gerry Stembridge
with Kevin Spacey, Linda Fiorentino, Peter Mullan, Stephen Dillane, David Hayman, Helen Baxendale, Patrick Malahide, Gerard McSorley, David Kelly, Gary Lydon, Paul Ronan, Colin Farrel
Icon 99/Ireland

---
Review by Rich Cline

With an odd mix of actors from America, England and Scotland, Thaddeus O'Sullivan's crime comedy Ordinary Decent Criminal is very well made and extremely well played. As a profile of an outrageous Irish criminal, the film is quite clever. But its story borrows so heavily from the life of Martin Cahill that the plot seems like a direct lift from John Boorman's fantastic The General, right down to small character details and quirky situations.

Michael Lynch (Spacey) is notoriously brazen about his crimes, yet the police detective on his case (Dillane) can't catch him red-handed. And he's also making the IRA mad by jumping the gun on scams they're planning. Lynch's personal life is just as out there--he has a wife (Fiorentino) and kids ... and more kids by his sister-in-law (Baxendale) ... and they all live as one happy family alongside his gang of loyal buddies who stage increasingly risky crimes. But Lynch is a nice guy, and the crimes have less to do with the money than with making the police angry with him. Then a major trap is set.

The performances make the film very watchable--Spacey is superb as usual, with his off-handed charm and a barely submerged razor edge underneath it. And the rest of the impressive cast is up to his standard. O'Sullivan directs with the same audacious style--breezy and edgy humour with brash, stylish flourishes that keep our interest and provide some good laughs. And probably if you haven't seen The General it'll all seem frightfully original. But it isn't. The whole story has been blatantly plagiarised from both true events and a much better film that's barely 18 months old! It doesn't merely draw from Cahill's life--this is his life (with a different ending that doesn't really work). And if the filmmakers would admit it instead of insisting that it's a work of fiction the film might be more palatable.

[themes, violence, language] 8.Dec.99
UK release 17.Mar.00
~~~~~~~ ~~ ~~~ ~~~~
READER REVIEWS
Still waiting for your comments ... don't be shy.

---
© 1999 by Rich Cline, Shadows on the Wall