Not One Less
SHADOWS

MUST-SEE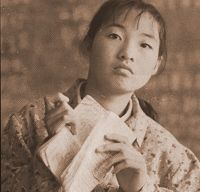 School teacher Wei Minzhi searches the streets of the big city for one lost student...
dir Zhang Yimou • scr Shi Xiangsheng
with Wei Minzhi, Zhang Huike, Tian Zhenda, Gao Enman, Sun Zhimei, Feng Yuying, Li Fanfan, Xu Zhanqing
Columbia 99/China

---
With a cast of non-actors--most of them playing characters with the same name--director Zhang Yimou (Jou Dou, Raise the Red Lantern, Keep Cool) has created another marvellously effective insight into Chinese life and culture. Not One Less focuses on rural, poverty-stricken schools ... and it makes a powerful political statement. But the film's real strength lies in its characters.

Wei Minzhi is a very young, shockingly inexperienced substitute who comes to a tiny countryside village to replace the regular teacher (Gao) for a month. Due to poverty, a fourth of the students have already left school to work, and Gao has told her she'll only get her bonus if all the students stay through her month--if there's not one less when he returns. So when the class clown Zhang Huike is sent to the city by his family to work, Wei decides to go after him. But she's so un-streetwise that she must turn to the students for help just to get out of the village, and in the process she actually starts teaching them. Then when she finally gets to the big bad city, she's forced to learn some lessons herself.

Zhang directs the film with such skill and force that the story and characters instantly work their way into our hearts and minds. This is an intensely personal fable, and we worry more about Wei's lack of survival skills than the 11-year-old Zhang Huike. The timid Wei is very well played by the first-time actress; the children are utterly natural--energetic, funny, constantly in trouble and very cute. The whole film has a raw, organic feel to it, even as the earthy countryside comes into contact with a glitzy big city television crew. And the message is clear: If the government won't step in to help these children, there must be caring people who will.

[themes] 16.Nov.99
US release Mar.00; 43rd London Film Festival Nov.99
~~~~~~~ ~~ ~~~ ~~~~
READER REVIEWS
Still waiting for your comments ... don't be shy.

---
© 1999 by Rich Cline, Shadows on the Wall