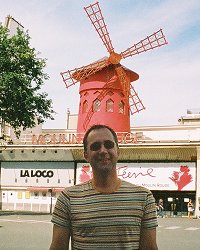 The indefatigable Luhrmann arrives with another dazzling film that fearlessly pushes the boundaries of a genre and wows us in the process (see also his Romeo & Juliet). This is exhilarating, vibrant, bravura cinema! We're in 1899 Paris, where the colourful titular nightclub is the setting for a tragic love story with slapstick overtones. Yes, really. Poor writer Christian (McGregor) is completely smitten when he sees the star courtesan Satine (Kidman), and soon he's roped into writing her next big musical extravaganza, modestly titled "Spactacular! Spectacular!" Working with the theatre manager (Broadbent) and a cheeky Toulouse-Lautrec (Leguizamo) is great fun ... but they also have to accommodate the show's vile producer The Duke (Roxburgh), who thinks that sleeping with Satine is part of his deal. No one's very happy about this ... and meanwhile Satine is showing signs of rather seriously ill health.

While the basic storyline is very simple, the way the film plays out is anything but. Luhrmann layers on so many sights, sounds and emotions that the audience has to work to keep up with it. And as the characters begin to break into song, we realise that Luhrmann is changing the conventions of the movie musical, mixing music from opera to pop. McGregor sings Elton John, Kidman sings Randy Crawford, Broadbent sings Madonna! It's fairly jarring, but ultimately a triumph of theme and artistry as the story springs to life and Luhrmann and his cast cut loose and go for it. Broadbent is larger than life as the conflicted Zidler--bridging between the heroes and the villain of the piece with head-spinning energy. But Kidman and McGregor give the film its soul, with a rare movie romance that has actual chemistry and emotion we can feel. Both are terrific (although McGregor wins the karaoke competition hands down!).

The film transports us to a fantasy world of truth, beauty, freedom and above all love. Every moment is packed with humour and romance. The music echoes the story's timeless themes (and the fact that there's nothing new in art), as well as the parallels between the turn of the centuries--20th and 21st. Rough and adventurous, colourful and bawdy, out of control and worrying at times ... but Luhrmann never loses his grip. Viewers who go along for the ride will be rewarded with one of the most involving and moving films in years. You leave the cinema feeling like you've just seen a fantastic West End musical ... and wanting to go straight back in and see it again.
| | | |
| --- | --- | --- |
| themes, innuendo | | 25.Jun.01 |
R E A D E R R E V I E W S
Jim Leonard, Los Angeles: "As near to a perfect movie-going experience as I've had in a while: a good movie I knew little about (big surprise element), seen with a full house of enthusiastic fans (well - not quite. More about that later.) I just had a great time. There are a lot of things wrong with this movie. Nicole and Ewan can't sing all that well. The story line is so simple it's hard to imagine they made a movie out of it. The story has more than one awkward moment. Some of it is just over the top. But ... I loved it! It was the experience of a confident and original storyteller taking you into his world and enthralling you with his story! It was imaginative, wild, vivid, stunning. And then I was completely unprepared for the 'joke' of the music. (Now I hope that doesn't alert others who don't know to expect something. My pleasure was that I didn't.) The problem with the music is that if you don't have a music background, you won't get it, and about a third of the audience I was with clearly didn't. The others laughed warmly, but many sat perplexed. I recommend this one very highly. I found the chemistry, the incredible visuals and the humor a great mix. My most enjoyable experience at the movies so far this summer. This is not a movie for the intellects looking for profundity. But it is a feast for the eyes and ears." (23.May.01)

Chris Clark, St Louis: "Lucious, glorious, bawdy and poignant - Moulin Rouge caught me completely off guard with its playfully serious tonality and organic approach to synthesizing the operatic stylization of an ages old love story within the context of the sin-tilating Moulin Rouge nightclub and its resident children of the night. I must admit that I would completely understand those that would deem this film a stylistic and anachronistic mess due to its bold juxtaposition of modern music upon this vision of turn-of-the-century Parisian decadence within the party culture of the times. I find myself frantically replaying one gloriously stylish moment after another in my mind. Leads Nicole Kidman and Ewan McGregor stunned me with their sensuality and charming vocal stylings. The entire supporting cast, set design and amazing costumes light up the screen with an intensity that ignites the imaginatively conceived, vintage-looking tinted palettes of the world that is Moulin Rouge. I was curiously sceptical of such a frothy musical construct being the opening night feature of the Holy Grail of the film festival circuit that is the Cannes Film Festival. Fascination became glee became awe as the pageantry of the tragic love story unfolded. I must recommend this most highly as one of the best calls for the early summer season. High camp values will delight the audience with its reverence and irreverence. Please go see this film immediately." (25.May.01)

Laurie T, Minneapolis: "I was curious to see what the big deal was, and could Nicole sing? I doubted it; she is a beautiful actress, well known, and I am sure she can turn down work if she choses to. The main story line is based on forbidden love and a mixup in identities. The Moulin Rouge is a nightclub where anything goes, and often does. A penniless writer is confused as the Count with big bucks, so the courtesan falls in love with the poor guy while trying to string along the rich guy, because she wants/needs his money. I have to say I was disappointed with this movie, having gone with zero expectations. It overwhelmed me with sound and music and kind of brought to mind the old vaudeville acts. Nicole's voice is okay; I do not claim to be a music critic, but she did not sound flat - but maybe not enough umph? Ewan's voice carried well, and I actually enjoyed his singing. But again, the whole thing fell flat on me - too melodramatic, too much noise and you really had to concentrate to figure out what was going on, only to learn there was not that much going on. The costumes are gorgeous, Nicole looks great, and the sets are fabulous - so if that is what you are looking for, go see it. Otherwise, it is a musical, with a melodramatic plot about forbidden love, that reminds me of vaudeville plays. I was disappointed." (4.Jun.01)

Kathy Mulcahey, Los Angeles: "I have to say that I initially was not anxiously looking forward to it but boy was I impressed! The style was so different from anything else that is out there it is a bit difficult to describe. It really pulled me in, though, and I am sure that I missed about half of the pop song allusions. It is the kind of movie that you keep chewing on afterward, and it demonstrates how talented people can make a very standard story line seem very fresh. The visual style was very intriguing and the score was just fabulous (or should I say 'spectacular'). I really loved it, and it was worth the $9. I definitely want to see this one again." (30.Jul.01)
Amanda, Wolverhampton: "I'd been looking forward to this movie for SO long and it more than lived up to my expectations. It's a colourful, captivating celebration of campness. Kidman's career is clearly blossoming and not before time. It's ironic that this magnificent film has been released to coincide with the ending of her marriage to Tom Cruise, in whose shadow she has always lived. It's time she showed her true, beautiful colours. Watch it and weep, Mr Cruise. This bird has flown." (9.Sep.01)

John Gowan, Quito: "We went to see this with high expectations after reading so much hype. We were sorely disappointed. While the production value of some of the musical numbers is certainly admirable, it still comes down to story for me in the end, and this one never got out of the starting gates. Frankly, it seemed to me like a ride into seediness, prostitution (at several levels) and the rest of the dark side of the night club scene in what I assume to be a largely stylized Paris. Yes, it was supposedly made legitimate by casting famous, beautiful stars in leading roles, singing popular songs with lots of gags and choreography, and especially by placing each scene in breathtakingly designed, surreal theatrical sets (yawn). By the time we reached the predictably tragic ending, there was one lady somewhere behind us crying for the lovers, while all around her (and eventually around us too) many people were giggling, both at her and for the actors on screen giving their all to emote feelings that just weren't landing with the audience. I never saw a quicker mass rising and heading for the exit than when the final shot announced itself. It was as if everyone was anxious to escape. I could relate, as I was fatigued from having tried and tried to 'get it', fighting what my instincts had been telling me for two hours ... that in spite of all the cinematic aromatherapy, this thing stunk." (14.Sep.01)

Jo Caswell, West Sussex: "This film is a total, full-on, bizarre and wild assault on the senses, and it is out of this world. I was entranced from the first second to the last. It's a simple story, but Luhrmann's unique vision for it more than fills the screen - it blasts you away! It is in turns hilarious, dark, tragic and wild, and I loved every minute, and it left me breathless. Don't think for a minute that it's just a frothy musical - the characterisations take some really unexpected turns. Best of all is the extraordinary use of contemporary music that has to be seen to be believed. And of course, the superb singing voices of Kidman and McGregor are the icing on the cake." (7.Nov.01)
Leslie, Spokane, Washington: "I loved this movie. It is so fresh, fun and beautiful that I had to check out all the websites and put in my two cents. There was never a dull moment and every frame was a feast for the eyes and heart. It was absolutely fabulous. The 'Roxanne' number and 'Diamonds are a Girl's Best Friend' are my favorites. Many thanks to all those who took part. It is a spectacular spectacular!" (25.May.02)
imaan, england:

"this was a great movie which teaches the beauty of true love. i was so touched with the parts when satine let down the only person she really felt in love with; the writer. i loved the moral of the whole movie: the greatest thing in life is to love and to be loved in return. there was another line which i really was in love with: when the writer wrote that love will live forever - although he lost the one he loved he still was still passionate about love." (18.Jul.08)