Loveís Labourís Lost
SHADOWS

MUST-SEE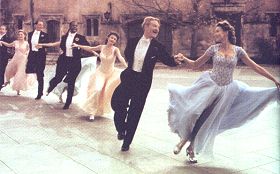 Cheek to cheek: The rebellious lovers take a spin in the castle courtyard. Naturally, that's Branagh (with McElhone) in front.
dir-scr Kenneth Branagh
with Alessandro Nivola, Kenneth Branagh, Adrian Lester, Matthew Lillard, Alicia Silverstone, Natascha McElhone, Emily Mortimer, Carmen Ejogo, Nathan Lane, Timothy Spall, Richard Briers, Geraldine McEwan, Stefania Rocca, Richard Clifford, Daniel Hill, Jimmy Yuill
Pathe 00/UK

---
Review by Rich Cline

Branagh continues to adapt William Shakespeare for the big screen, and bless him for it! This time, instead of go for the modern variation a la Baz Luhrmann's Romeo & Juliet, he goes all retro on us. Love's Labour's Lost is a 1930s-style musical comedy, complete with elaborate Busby Berkeley-style numbers to the tunes of Cole Porter (I Get a Kick out of You), George and Ira Gershwin (They Can't Take That Away From Me, I've Got a Crush on You), Irving Berlin (Cheek to Cheek, Let's Face the Music and Dance, There's No Business Like Show Business), et al. And what fun it is!

The plot centres on the King of Navarre (Nivola) who with his three best friends (Branagh, Lester and Lillard) takes a vow of chastity to study for three years. Then they meet the King of France's daughter (Silverstone) and her three sidekicks (McElhone, Mortimer and Ejogo). And they must subvert their vows for love to flourish. But this is Shakespeare and it's much more complicated than that, of course.

This is considered one of the Bard's most long-winded and insubstantial plays, so Branagh changes the setting to 1939--between wars--and then replaces two-thirds of the dialog with classic tunes of the period. The result is stunning--a bouncy and silly musical comedy with a subtle edge to it. The actors all acquit themselves well in the song and dance department, although Lester and Lane (as a cheeky chappie court jester) steal every number they're in. Spall, Briers and McEwan also shine in hilarious comedy roles. And Branagh is of course excellent, even though his role seems to have been cut the least! Sure, the rich Elizabethan dialog and the film's goofy, stylised tone (Shakespeare meets Dennis Potter meets Mel Brooks) take some getting used to, but the choreography is inspired and energetic, Branagh has some terrific sight gags up his sleeve ... and the songs themselves are absolutely wonderful.

[U--innuendo, one steamy dance number] 1.Mar.00
UK release 31.Mar.00; US release 9.Jun.00
~~~~~~~ ~~ ~~~ ~~~~
READER REVIEWS

"I really wanted this film to work - but I don't think it did. The acting - of course - was superb; everything was of the standard I have come to expectfrom a Branagh production of Shakespeare - but I don't think Ken quite hit the spot with the songs and dances. I don't think the actors involved were actually capable of pulling off the song and dance routines (except the wonderfully hammed up ones ... 'I get no kick from champaaaaagnnnnnneeee'). Branagh's singing and dancing was particularly weak. I got the impression that he'd said, 'I'm the director - it's my game - and if I want to sing and dance I jolly well will.' Bad move, Ken. The montage of war images towards the end of the film was very well shot, and quite moving, but I felt it left the end of the film hanging in mid-air - very unsatisfying not to finish with Shakespeare. I came away from the film feeling disappointed. A real shame, as the idea sounded so marvellous." --Jo C, West Sussex.

---
© 2000 by Rich Cline, Shadows on the Wall