The Little Vampire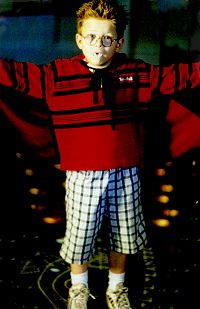 Fang shui. Tony's (Lipnicki) obsession with vampires gives the babysitter a bit of a fright....
dir Uli Edel
scr Karey Kirkpatrick, Larry Wilson
with Jonathan Lipnicki, Richard E Grant, Alice Krige, Jim Carter, John Wood, Rollo Weeks, Pamela Gidley, Tommy Hinkley, Anna Popplewell, Dean Cook, Jake D'Arcy, Ed Stoppard
00/UK

---
Review by Rich Cline

Based on the books by Angela Sommer-Bodenburg, The Little Vampire is a surprisingly enjoyable kid's movie. I say surprising, because the trailer makes it look unbearably awful! But it's actually blessed with a script by the authors of Chicken Run (Kirkpatrick) and The Addams Family (Wilson), which gives it not only a steady stream of dry wit, but also a dark vein of gallows humour perfectly crafted for the likes of Grant, Krige and Carter.

The unbearably cute 9-year-old Tony (Lipnicki) is having trouble sleeping after his family relocates from sunny San Diego to a cold castle in the Scottish highlands, where Dad (Hinkley) is building a golf course for the local Lord McAshton (Wood). But Tony's real problem is vampires, first in his dreams and then in reality when a 9-year-old vampire (Weeks) enters his room, then takes him to visit the parents (Grant and Krige) and siblings (Popplewell and Cook). It seems that Tony has some sort of inside track to unlock the curse that made them vampires to begin with. But they'll all have to outfox tenacious vampire slayer Rooker (Carter) first.

Director Edel (Last Exit to Brooklyn, Body of Evidence) unsurprisingly takes an adult approach to this children's story, keeping things very lively, action packed and darkly funny. Yes, Lipnicki is unbearably cute, but we're soon won over by his quirky edginess and the superb way he interacts with the other actors (although is it just me or has he not aged at all since Jerry Maguire? Creepy!). There are of course some very childish sequences, not to mention the dodgy digital effects, most of which centre on a running gag about cows. But the silly storyline and vampire mumbo jumbo reminds us that it's just a kid's movie, so stop whinging. At least there's enough to keep the grown-ups giggling while the youngsters cling to their seats.

[U--suspense] 8.Aug.00
UK release 20.Oct.00; US release 27.Oct.00
~~~~~~~ ~~ ~~~ ~~~~
READER REVIEWS
"I thought it was great, it included everything I wanted to see in a film. It had humour, action, love, friendship, vampires and its sad times. It also had some cute boys (ie: Rollo Weeks). And because of that I'm going to see it again and again till I get sick of it (then I'll send another review, and you can compare it to this one)." --Emma Crofts, net.

"I think it was the best movie in the world (especially because it had Rollo Weeks). It was humorous sad and I am going to see it for the third time! I totally loved the movie. Especially Dean Cook! I always talk about him and the movie.I have every picture I can find of him. If you like him email me. No one I know likes him! Thanx." --Mealefty, net.

"I loved the movie it was the best one I ever saw , I also have a big crush on Rollo Weeks - he is so gorgous. I saw the movie six times already." --Teri, net 14.Jan.01.

"I thought The Little Vampire was very good. It was funny and very good to watch. When I was younger I watched the TV series of it and I liked it then and I like it now, especially because Rollo Weeks is in it. I really really really like him - he looks so cute." --Emma Nikolic (age 12), net 19.Jan.01.

---
© 2000 by Rich Cline, Shadows on the Wall