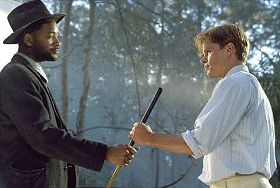 Try this one. Bagger (Smith) teaches Rannulph (Damon) that golf is like a box of chocolates ... or something like that.
The Legend of Bagger Vance

dir Robert Redford
scr Jeremy Leven
with Matt Damon, Will Smith, Charlize Theron, J Michael Moncrief, Bruce McGill, Joel Gretsch, Lane Smith, Peter Gerety, Harve Presnell, Trip Hamilton, Michael O'Neill, Jack Lemmon
release US 3.Nov.00; UK 23.Feb.01
Fox-Dreamworks 00/US 2h06

REVIEW BY RICH CLINE

Redford's directoral signature is on every frame of this sun-drenched, honey-toned film--it's absolutely beautiful to look at, full of redemptive themes and fine performances. And with a heavy injection of knee-slappin' corn, it's a thoroughly watchable fable about life, the universe and everything. Lemmon's world-weary voice (he appears uncredited in the film's wraparound sequences) narrates the tale of Rannulph Junuh (Damon), a rising golf star in Savannah, Georgia, who went to the Great War and came back shell-shocked. But he's brought back to life--and recaptures his swing!--by a young fan (Moncrief), the woman who always loved him (Theron), a challenge from the country's top golf pros (McGill and Gretsch), and most of all his mysterious caddie Bagger Vance (Will Smith), who may just be an angel in disguise.

Homespun pearls of wisdom flow like butter on a hot muffin, but all this quaintness actually works, since Redford knows how to tell a story. And even when the golf/life metaphor gets far too heavy-handed, the film is still effective, blessed with a nicely understated performance from Damon. Smith's offhanded turn gives the film its badly needed comic relief, while Theron melts the scenery perfectly. So what's the problem? Like Redford's other films, the cinematography is just a bit too picture-perfect gorgeous. The bloated script shows contempt for the viewer's intelligence by explaining every little detail, giving too much information about everything and hammering in each deeply meaningful message. And the film's aw-shucks cosiness keeps us from ever doubting that Junuh will overcome his many inner demons. The result is entertaining, handsome and ultimately edgeless.
| | | |
| --- | --- | --- |
| themes, language | | 19.Feb.01 |