We Don't Talk About This Kind of Thing...
Rich Cline talks to the guys behind a terrific film that's taken far too long to reach British screens...
Spanish filmmaker Cesc Gay is both surprised and pleased at the reception his film Krampack has had since it premiered at the Cannes Film Festival in 2000. Over the next three years the film toured the world, picking up awards at festivals from Bogota to Bratislava, Miami to Malaga, Stockholm to Chicago, including a special youth award at Cannes.
"When we made Krampack never thought we were making a gay movie," he says, laughing at the irony of his name. "For me the movie is about friendship. A lot of people experiment when they're teenagers. The Italian distributor said that since we didn't think about all that stuff while we were making it, it's a better film as a result. It's not typical or obvious."
His writing partner Tomás Aragay adds, "When we were writing it, we didn't want to commercialise it. In Spain we don't talk about this kind of sexual experimentation. But we all experiment with our friends."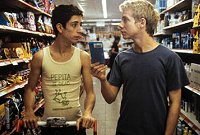 Krampack is about two 16-year-old boys who spend a summer in a Barcelona beach house while their parents are away. It's a typical summer: exploring each other, trying to get together with girls ... and realising that one of them might prefer boys. Krampack is the code name for their experimentation; it's a word coined by Jordi Sanchez, author of the play on which the film is based.
"The play was a comedy about people in their 20s living in a flat," Cesc says. "We made them younger because people in their 20s aren't really like that. I liked the idea of making a film about a friendship at 16 years old."
Tomás continues the idea: "We remembered the times when we were together at that age, the atmosphere and excitement of going to stay with friends. We sent the family away so they were in a free situation, because this is a choosing time -- who to sleep with, to study or not to study. It's a critical time."
Even though Cesc and Tomás have known each other since they were teens, they insist that it's not an autobiographical film. "Yes, it's based on real experiences of discovering sex with friends," Tomás says, "going to a party and getting drunk, trying to get the girl and not being able to. Everyone remembers doing this kind of thing."
Casting two sexually curious 16-year-olds was tricky, because Cesc says all the actors who auditioned looked far too old. "I soon discovered that most teenagers are built like Mike Tyson and they've been shaving since they were 12," he says. "So we eliminated all but 20 percent of the kids who'd come to the casting. Then we had to make sure the boys made a good match. It was sort of like mixing a cocktail. The two of them might be great individually but if they didn't work together the film just wouldn't make it. I was thinking of Redford and Newman, Lemmon and Matthau, Laurel and Hardy or Delon and Belmondo."
They cast two very different 20-year-olds: Fernando Ramallo, who plays Dani, is a professional actor who had appeared in David Trueba's award-winning The Good Life, while Nico is played by Jordi Vilches, a circus performer and stage actor who had never made a movie before. "Jordi just wanted to earn the money from the film so he could buy a truck and drive around the country," Tomás says "He still does that, he does one movie a year."
Before Krampack, Cesc made a film called Hotel Room with Argentine director Daniel Gimelberg. "I lived in New York from 1993 to 1996, and we shot the film for $10,000, which is basically no budget! We built a hotel room in my friends' living room and shot it in black and white on 16 millimetre in 10 days."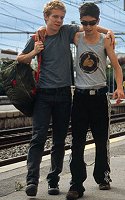 Meanwhile, producer Marta Esteban was trying to get the film version of Krampack going. She was looking for a young filmmaker from Barcelona, and when she saw Hotel Room she gave Cesc a call. He in turn brought Tomás in to work together on the script. "Marta had already commissioned four scripts before ours but we didn't read any of them," Cesc says. "We worked out the big changes -- a summer story, with the ages changed -- and then we wrote the screenplay for no money. We spent from February to the end of May writing. We started shooting the first week of October with a small but decent budget."
Both in their mid-30s, Cesc and Tomás share a love of storytelling, and their long-term friendship shows in the way they frequently finish each others' sentences. When asked about running themes in their work together, Cesc comments on the similar sense of humour and a common tone. "It's a mixture between tenderness..."
"...and humanity..." Tomás interjects.
"...talking about people and emotion and daily real life," Cesc adds. "We love cop movies and thrillers, but I'm not interested in making one." To which Tomás says, "We're not really very spectacular!"
Cesc says his main influences are Buñuel, Cassavettes "and all the old ones", while Tomás cites Kaurismaki and Kitano.
Cesc and Tomás have gone on to cowrite IN THE CITY, which was selected for both Toronto and London film festivals in 2003. "It's an ensemble story about a group of people in their 30s," Tomás says, and Cesc continues, "a group in which no one talks about what's going on between them. And there are all kinds of things going on. It's a little, sad movie." To which Tomás adds, "It's very austere."
"Yes," Cesc agrees. "For our next film we're talking about a comedy. We want to have some fun."

--London, 19.Sep.03