Fantasia 2000
SHADOWS

MUST-SEE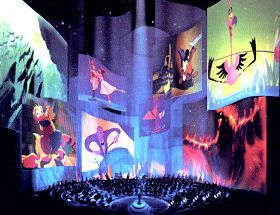 The Chicago Symphony Orchestra, conducted by James Levine in a surreal, spacey set, takes us on a trip through the animators' imagination.
dir Pixote Hunt, Hendel Butoy, Eric Goldberg, James Algar, Francis Glebas, Gaetan & Paul Brizzi, Don Hahn
hosts Steve Martin, James Levine, Itzhak Perlman, Quincy Jones, Bette Midler, Penn & Teller, James Earl Jones, Angela Lansbury
Disney 99/US

---
Review by Rich Cline

Walt Disney always thought Fantasia would be a series--a visual blending of art and music that evolved from year to year. The original 1940 film was groundbreaking on several levels, yet due to cost and the sheer effort involved, follow-ups never materialised until now. Ten years in the making, Fantasia 2000 is also a true groundbreaker. And it's also the best Imax movie ever made.

There are eight segments, hosted by a variety of celebrity guests in clever (often funny) links that don't outstay their welcome. Beethoven's Symphony No 5 is illustrated by an abstract battle between good and evil. Respighi's Pines of Rome becomes a surreal tale of a family of whales swimming among the icebergs ... and clouds. Gershwin's Rhapsody in Blue is a voyage through Depression-era Manhattan, drawn in the style of cartoonist Al Hirschfeld. Shostakovich's Piano Concerto No 2 is a moving soundtrack to Hans Christian Andersen's The Steadfast Tin Soldier. Saint-Saens' Carnival of the Animals is a goofy interlude with flamingos and yo-yos. Dukas' The Sorcerer's Apprentice, starring Mickey Mouse, makes a re-appearance from the first film. Elgar's Pomp and Circumstance accompanies Donald Duck in the Noah's Ark tale. And Stravinsky's Firebird Suite tells a story of death and rebirth in the forest.

It's simply stunning--especially on that huge screen--as the animators let their imaginations and technical skills run wild. Highlights are easily the Pines of Rome and Tin Soldier sequences, both gorgeously animated and emotionally involving. It's fascinating to see the texture and amazing detail of the 60-year-old Sorcerer's Apprentice (a bit grainy in the blow-up) contrasted to the more eye-popping yet less fluid computer-assisted new stuff. Again, this is a classical concert, not a narrative film! But this edition is much more accessible--less arty--than the original. Each segment carries a strong resonance. And if there's any complaint, it's that the final sequence, while a real stunner, simply isn't unusual enough to draw it to a satisfying close. But that's hardly a complaint. Don't wait for it to reach regular cinemas!

[U--some suspense] 15.Dec.99
US/UK release 1.Jan.00
~~~~~~~ ~~ ~~~ ~~~~
READER REVIEWS
Still waiting for your comments ... don't be shy.

---
© 1999 by Rich Cline, Shadows on the Wall