The Colour of Paradise
SHADOWS

MUST-SEE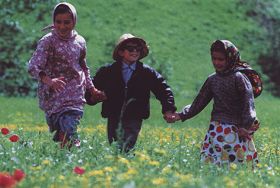 Mohammad is rather excited to be back home in the country with his sisters (Safari, Ramezani and Sharifi).
dir-scr Majid Majidi
with Hosein Mahjoob, Mohsen Ramezani, Salameh Feyzi, Elham Sharifi, Farahnaz Safari
99/Iran

---
Review by Rich Cline

Iranian writer-director Majidi won his country's first-ever Oscar nomination this year for Children of Heaven, then turned around and made one of the most beautiful films of the year for his next project, The Colour of Paradise (also translated as The Colour of God). With skill and attention to the most intimate detail as well as the grand spectacle, Majidi has crafted a powerfully moving film about love and acceptance--both human and divine.

Mohammad (Ramezani) is an 8-year-old in a school for the blind in Teheran on the last day before summer holidays. From the very beginning we see that this is a boy who's grabbing everything he can out of life, soaking up experiences, thoroughly engaged in his surroundings and not even remotely inhibited by his blindness. Then we meet his widowed father Hashem (Mahjoob), reluctantly arriving to collect him, ashamed and afraid of his son. They travel by bus and horse to their remote mountain home, where Mohammad greets his grandmother (Feyzi) and sisters (Sharifi and Safari) exhuberantly, diving back into rural life with gusto. He "reads" the flowers, creekbeds and woodpecker songs by Braille to better understand the world--and the God who made him this way. But Hashem is worried that Mohammad will jinx his chances to remarry, and plots--against Granny's will--to send him away.

Majidi directs the film with a gripping sense of place and a deeply personal touch. From the very beginning we feel everything Mohammad feels, hearing the sounds and seeing the lush, dense colours. The film is jammed to the brim with near-perfect touches that grab us with wonder, earthy humour, emotion, frustration, fear and anger. And as the story begins to focus on Hashem's inability to see how remarkable Mohammad is, the film develops an even more profound resonance. Don't miss it.

[U--themes] 15.Nov.99
UK release 4.Aug.00
~~~~~~~ ~~ ~~~ ~~~~
READER REVIEWS
"An absolutely gorgeous film! Writing, cinematography, acting ... everything is top notch and absolutely mesmerizing. You can't help but be charmed by Mohammed's (Ramezani) wonderfully rich life. Definitely one of the best movies I've seen in a long time!" --Arthur W, net.

---
© 1999 by Rich Cline, Shadows on the Wall