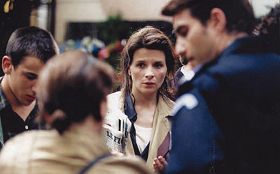 Trouble afoot? Anne (Binoche) tries to calm down the arguing factions.
Code Unknown
Incomplete Tales of Several Journeys
Code Inconnu: Récit Incomplet de Divers Voyages
dir-scr Michael Haneke
with Juliette Binoche, Thierry Neuvic, Ona Lu Yenke, Sepp Bierbichler, Luminita Gheorghiu, Alexandre Hamidi, , Maimouna Hélène Diarra, Djibril Kouyaté, Guessi Diakite-Goumdo, Crenguta Hariton Stoica, Bob Niculescu, Bruno Todeschini
release UK 25.May.01
00/France 1h57

REVIEW BY RICH CLINE

Here's a superior example of a tapestry film--you know, the kind with interwoven, barely related stories all circling around a central theme. The opening scene sets the tone--a single take on a Paris street where an actress, Anne (Binoche), runs into Jean (Hamidi), the young brother of her war photographer boyfriend (Neuvic), who's in Kosovo on assignment. When Jean insults Maria (Gheorghiu), a homeless Romanian roman, he infuriates a black passerby, Amadou (Yenke). A scuffle ensues ... and then the film spirals out to show scenes from each person's life, most of which deal with communication struggles in an increasingly fragmented, culturally isolated society.

Austrian writer-director Haneke constructs the film skilfully with snippets of scenes that ring so true they take our breath away. Using very long takes and a clever sound mix, he elicits authentic performances that draw us intimately into the film's themes. This is very strong stuff, and no one is let off easily. We follow Maria as she's deported to Romania, then returns to Paris knowing the degradation that awaits her. We see Amadou's chaotic homelife, his work as a teacher of deaf children and his persecution at the hands of racist cops. We follow Jean home to the farm ... and the shattered hopes of his father (Bierbichler). We enter Anne's life, the auditions, film sets and the difficulties at home, where she and her boyfriend rarely see each other. And even if it's a bit "foreign" and arty, it's also consistently gripping, thoughtful, powerful stuff, assembled in an unusual way that catches us off guard and never preaches.
| | | |
| --- | --- | --- |
| adult themes, language | | 9.Feb.01 |