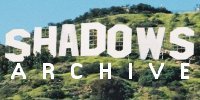 Centre Stage

dir Nicholas Hytner
scr Carol Heikkinen
with Amanda Schull, Zoe Saldana, Susan May Pratt, Peter Gallagher, Donna Murphy, Ethan Stiefel, Debra Monk, Sascha Radetsky, Shakiem Evans, Ilia Kulik, Eion Bailey, Julie Kent
release US 12.May.00; UK 16.Feb.01
Columbia 00/US

REVIEW BY RICH CLINE

This backstage glimpse at the New York's American Ballet Academy has lots of potential as a film, both for the drama in its situations and the visual aspect of the subject matter. But the screenplay completely misses the point, including virtually every cliche imaginable on its way to a rather contrived conclusion. We meet a bunch of fresh-faced new students, arriving at the ABA with hopes and dreams that are quickly shattered when the artistic director (Gallagher) tells them only three will actually join the company. Will it be the spirited Jody (Schull), the arrogant Eva (Saldana), the pompous Maureen (Pratt), the brooding Charlie (Radetsky) or the wacky Erik (Evans)? How will they navigate the tough-but-caring teacher (Murphy) and the company's most famous dancer (Stiefel), who's in search of a new partner ... both at home and on stage?

This film so desperately wants to be Fame that it hurts. But in order to accomplish this, the screenwriter apparently thought all she had to do was insert all the required elements and voila, it would happen magically. But without anything more to them, it's impossible for us to care about these characters; they're mere stereotypes going through hackneyed situations. The acting isn't bad, but it never lives up to the potential, probably because the material is so weak. The direction is occasionally fascinating, but most of the time it's flat and lifeless. The ballet sequences aren't nearly thrilling--or even interesting--enough. And the dialog and plot get increasingly trite as we approach the Big Important Final Performance and all the tough, touching, heart-warming stuff it brings. The main frustration watching this film is that there's simply no sense of what people go through to become top-notch dancers. Which kind of makes you wonder why the film was made in the first place.
| | | |
| --- | --- | --- |
| themes, language | | 13.Feb.01 |
R E A D E R R E V I E W S
Hannah, NSW Australia:

"I felt this movie was wonderfully acted and there is absolutely no need to rip it off. The movie was made to entertain and nothing else." (5.Mar.04)

Livi Mullins, Great Britain:

"As a ballet dancer, i feel this film gives an idea of what the profession can have involved in it. i personally really enjoyed this film!" (18.May.04)
elizabeth, net:

"It's simply just a bit of fun, maybe not the best acting but the dancing makes up for it." (23.Jan.06)