Almost Famous
SHADOWS AWARD: BEST SUPPORTING ACTRESS FRANCES McDORMAND
SHADOWS

MUST-SEE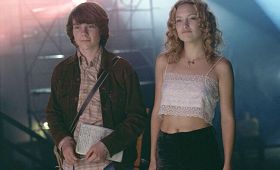 In the wings. William and Penny (Fugit and Hudson) watch Stillwater perform to the adoring masses.
dir-scr Cameron Crowe
with Patrick Fugit, Billy Crudup, Frances McDormand, Kate Hudson, Jason Lee, Philip Seymour Hoffman, Anna Pacquin, Fairuza Balk, Zooey Deschanel, Noah Taylor, John Fedevich, Mark Kozelek
DreamWorks 00/US

---
Review by Rich Cline

Crowe finally follows up Jerry Maguire with the largely autobiographical Almost Famous, tracing his exploits as a 15-year-old reporter travelling with a rock band in the early 1970s. It's a thoroughly appealing story, drawing us in with its outrageous situations and sympathetic characters. And it's a rare coming-of-age film that doesn't beat us over the lead with all that Life Lessons nonsense. As a result, it says much, much more.

William Miller (Fugit) is a prodigy, largely due to his protective, ambitious mother (McDormand), who pushes him to achieve far beyond his years. The editors of Rolling Stone see his local articles, and without knowing his tender age they hire him to follow an up-and-coming band Stillwater on their nationwide tour. Along the way, William becomes close friends with the band's leader (Crudup) and a groupie (Hudson) ... and he gets the inside scoop on his heroes as he's coached by his mentor/guru, the cynical music writer Lester Bangs (Hoffman).

The film is so infused with a love for '70s music that you can't help but be drawn into it. The period is intricately recreated without a single cliche, while the performances are all honest and open. Fugit (in his film debut) is remarkable, holding the film together and letting us see everything through his bemused, astonished eyes as he observes--and makes sense of--the sex, drugs and rock 'n' roll around him. The film is jammed with classic sequences that are both terrifically entertaining and meaningful (the true-confessions sequence on a storm-engulfed airplane is wonderful!). And best of all, Crowe captures the buzz of being a behind-the-scenes journalist--meeting your heroes in person, hanging with them, basking in their reflected glory. As Bangs says, "We're uncool. They get the girls, but we're smart."

[15--strong themes and situations, language] 23.Oct.00
US release 15.Sep.00; UK release 9.Feb.01
~~~~~~~ ~~ ~~~ ~~~~
READER REVIEWS

Still waiting for your comments ... don't be shy.

---
© 2000 by Rich Cline, Shadows on the Wall