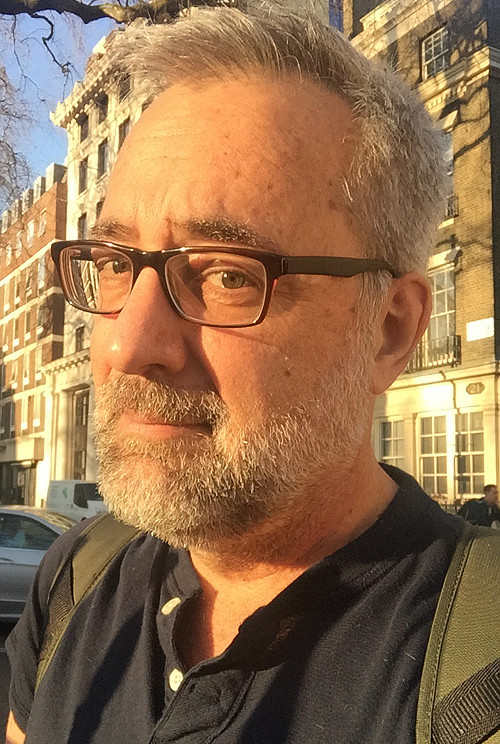 C U R R I C U L U M V I T A E
journalist • writer • editor • designer
Rich Cline
London, England
shadows@wall.net
BIO
Rich Cline was born in Los Angeles and grew up in California and Ecuador, South America. He moved to Great Britain in 1992 while working as a journalist and radio producer for an international charity. He has covered festivals and major international events on six continents. As a freelance critic, he covers cinema and reviews films each week for BBC radio and television, Contactmusic, Shadows on the Wall and other print, online and broadcast outlets.
SKILLS
Film/media writer: Reviews, essays, interviews and film industry reports for newspapers, magazines, radio and television.
Journalist: magazine, radio and newspaper writer/editor, critic, columnist, sub, press officer; news reports, radio packages, interviews, internet publishing.
Radio, film and video production: Scriptwriting, editing, producing.
Lecturer: Training at university level in communications, cinema, journalism, teaching.
Graphic design: logo/corporate design, web design, DTP, mechanical paste-up/pre-press.
Languages: Read, write and speak Spanish. Studied French, Russian and Portuguese.
EXPERIENCE
SEP 85-PRESENT: Freelance Journalist
self-employed, London.
Print: film editor for Boyz magazine, freelance reviews and features editor for Metro, Heat, Daily Mirror, Grazia, Idea, QX and others.
Radio/TV: reviews, interviews, expertise for BBC radio and television; freelance reports and reviews for Channel 4, NBC/Bravo, Sky, Press TV, Century FM, Clasic Gold radio.
Online: news, reviews and features Shadows on the Wall (daily), Contactmusic (weekly); freelance reviews and features for Film4, Film Threat, Rotten Tomatoes, IGN, IndieWire, Filmnet, Real Movie News, Moviebus, Cinezine, others.
Internationally: served as a jury member at film festivals in Berlin, Venice, Abu Dhabi, Torino, St Louis, Miami and Cardiff; covered the Olympics in Los Angeles, Barcelona, Lillehammer, Atlanta, Sydney, Athens, Beijing and London, plus international events in Australia, Brazil, South Africa, Zimbabwe, Finland, Greece and the UK.

SEP 85-PRESENT: Writer-editor-publisher
Shadows on the Wall, London.
Write, edit and publish Shadows on the Wall, a newsletter and website of film reviews and cinema industry news that's distributed internationally. Published bimonthly in print from Sep 85 to Dec 99; published via the internet from March 95 to present. Shadows is the UK's first film e-zine.

1985-95: Head of Publications
HCJB Global, Miami and London (freelance after 1995).
Manage publications and press office for international charity organisation (specialising in media and health care work). Role included editing monthly magazine, creating press releases, responding to media queries, managing editorial staff in regional offices, creating and maintaining an internet site, and travelling as needed in North and South America, Europe, Russia and Australia.

1983-85: Graphic artist/copy writer
TC Advertising, Los Angeles.
Produce copy and print-ready artwork; liaise with clients, designers and photographers.

1981-83: Managing Editor
The Clause, Los Angeles.
Edit the arts section of a weekly newspaper, write weekly film reviews and news. As managing editor (1982-83): Coordinate production, write editorials, reviews and news.

1981-84, 1994-95: Film and TV production
ESPN, Los Angeles; Televozandes, Quito.
Scriptwriting, camera operation, video and film editing (linear and nonlinear) and sound.

QUALIFICATIONS
Teaching certificate - Leeds Beckett University, Leeds, West Yorkshire.
Cambridge/Royal Society of the Arts TEFLA. May 94.
Four-year Bachelor of Arts degree - Azusa Pacific University, Los Angeles.
B.A. Cum Laude [2:1] - Communication Theory (Journalism). Apr 83.
College Prep diploma - Alliance Academy, Quito, Ecuador.
A-level equivalent: English A, Maths A, Spanish A, Philosophy & Religion B. May 79.
PERSONAL
Details: Born in Venice, California. Los Angeles native; permanent UK resident since May 92, with permission to work. Clean UK driving licence.
Member: The Critics' Circle, Fipresci, Online Film Critics Society, Galeca, International Sports Press Association, UK Sports Journalists Association.
Honours: Who's Who in U.S. Writers, Editors and Poets (1986-92); Outstanding Young Men of America (1989); Contribution to the Arts, PoA (1989).
Interests: cinema (watching, reviewing, filmmaking); travel (the Americas, South Pacific, Europe, Middle East, Central Asia, Japan, Africa); literature (read and write poetry, fiction and nonfiction); theatre (as an audience member, cast member and playwright); plus skiing, walking, real ale, Finnish saunas.
SAMPLES
Mar.17