HOME | REVIEWS | NEWS | AWARDS | Q&A | ABOUT | TALKBACK

SHADOWS ON THE TUBE
Things I caught on video or in a rerelease...
On this page: THE HOLE | PUMPING IRON | SURRENDER DOROTHY
THE TESTAMENT OF DR MABUSE | TO RUSSIA WITH ELTON
< < M O R E | M O R E > >

If you have an film you want me to review - just ASK
last update 23.Mar.04

THE HOLE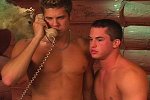 dir-scr Wash West
with Tag Eriksson, Josh Hammer, Jason Adonis, Vince Taylor, Derec Lang, Sam Tyson, Anthony Holloway, Adam Killian, TJ Hart, Trent Atkins, Jeremy Tucker, Lorenzo Vargas
release US Mar.03 dvd; UK 2.Apr.04 llgff • 03/US 45m


REVIEW BY RICH CLINE

After writer-director West's brief foray into mainstream cinema (The Fluffer) he went back into the porn world with his imagination clearly invigorated. After his inventive The Porno Picture of Dorian Grey (a comic riff on Oscar Wilde that spoofs porn movie styles through the decades), he's back with this hilarious parody of The Ring. The switch here is that after watching the fateful videotape, the viewer has seven days before he becomes gay! It centres on a San Bernardino, California, journalist named Benny (Eriksson) who's investigating reports of the notorious videotape with the help of previous "victim" Josh (Hammer). Of course, once he watches the tape, Benny is in a race against time to get to the bottom of things, as it were.


OK, so this is basically a porn movie, but it deserves its festival screenings simply for the cheeky humour it exudes. The acting is wooden and corny--these buffed and polished men couldn't pretend to be straight if their life depended on it! The production is extremely cheesy, the dialog is hilariously stupid and the sex is ludicrously glisteny and staged. But the fact that West's films actually have plots lifts them far above almost all other adult cinema. West also has a great time lampooning the whole gay scene in a knowing yet pointed way, and he fills the film with hilarious running gags and clever humour that puts most Hollywood comedies to shame. Even the sex scenes have a tongue-in-cheek element to them as the situation irresistibly slides into a contrived sexual encounter just because it has to. Gleefully deranged fun. [strong nudity, sex, language, themes] 7.Mar.04 llgff

PUMPING IRON — The 25th Anniversary Special Edition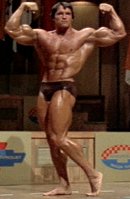 dir George Butler, Robert Fiore • scr George Butler
with Arnold Schwarzenegger, Lou Ferrigno, Mike Katz, Franco Columbu, Matty Ferrigno, Victoria Ferrigno, Ken Waller, Serge Nubret, Robin Robinson, Ed Corney, Roger Callard, Joe Weider
reissue UK 23.Jan.04 dvd • 77/US 1h25


REVIEW BY RICH CLINE

Reissued for its 25th anniversary, this 1977 documentary basically legitimised both bodybuilding and Arnold Schwarzenegger. It's an extremely well-made film, delving into the lives of the competitors with wit and insight, and the filmmakers keep it extremely entertaining by letting the colourful personalities of each person come out sharply. At the centre of course is 28-year-old Arnold (6-foot-2, 240 pounds, 23-inch arms!), the five-time Mr Olympia preparing to defend his title for the last time at the 1975 competition in Pretoria, South Africa. We follow the road to this championship as he trains in Venice Beach, along with other competitors including the 24-year-old newcomer Lou Ferrigno (6-foot-5, 275 pounds), who trains with his ex-cop father Matty in Brooklyn. We also meet Arnold's lively Italian protege Columbu, as well as the American schoolteacher challenger Katz and his nemesis Waller.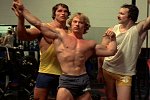 This warm-hearted film is a celebration of muscles--there's skin galore here, with endless shots of posing bodybuilders and rippling male flesh. It's extremely well assembled with a narrative drive that keeps us gripped, plus all kinds of trade secrets from ballet training to the last-minute pump-up. The only things that date the film are the shaggy haircuts and a general freewheeling attitude toward things like sexuality, which reminds us how much freedom of expression we've sacrificed in the name of political correctness. There's some wonderful footage here, from backstage angles on the contests to fly-on-the-wall clips in which, for example, Arnold comments on his opponents.


The camaraderie and good-natured competition between the bodybuilders is great fun to watch as they continually psych each other out. And Arnold himself comes off amazingly well--full of charisma and confidence with a mischievously cruel streak, a professional focus and intelligence, and an obsession with scantily-clad women. The DVD includes a new interview with him in which he debunks several myths about the film, including which bits were made up to make the film more fun to watch. And he also confirms that yes, he did inhale! [PG adult themes and innuendo] 20.Jan.04

SURRENDER DOROTHY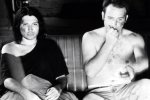 dir-scr Kevin B DiNovis
with Peter Pryor, Kevin B DiNovis, Elizabeth Casey, Jason Centeno, Marcos Muniz, Keri Merboth, G Rich, Marion Wrenn, Richard Rabuse, Rassaleela Shields, Gregory K Maier
release UK Jan.04 DVD • 98/US 1h29


REVIEW BY RICH CLINE

Filmed in black and white on a very low budget, this outrageous experimental movie blurs just about every edge of sexuality. Creepy, funny and extremely twisted, this is an auspicious debut from a filmmaker to watch. The story centres on a nervous food fetishist named Trevor (Pryor), who helps out his junkie friend Lahn (filmmaker DiNovis) when he heeds a place to stay. But in exchange for room and smack, Trevor makes Lahn dress up like a woman and calls him Dorothy. As things progress, Lahn gets increasingly desperate for the drugs. And Trevor gets increasingly extreme in his plans, moving from domestic roles to make-up and shaving, then hormones ... and then books about, erm, do-it-yourself gender reassignment surgery. Somehow we doubt that Lahn's girlfriend (Casey, aka Seabiscuit's Elizabeth Banks) will understand.
Writer-director DiNovis clearly enjoys subverting sexual stereotypes here! Neither central character is gay, and just about every stage on the scale from macho thug to nurturing carer pops up, but rarely where we think it will. Pryor and DiNovis play the central roles well, drawing us into both characters despite Trevor's chauvinism and Lahn's deeply addictive personality. A couple of the supporting cast members are less impressive, and it's here that the film's amateurishness shows. Otherwise, DiNovis uses extremely inventive cinematography, direction and editing to make it atmospheric and involving. As well as darkly hilarious. It's reminiscent of the early, assured black-and-white work of filmmakers who have gone on to much bigger things (see David Lynch's Eraserhead, Darren Aronofsky's Pi, Christopher Nolan's Following), as well as Steven Shainberg's Secretary, which deals with similar themes. And like those others, DiNovis really goes for it; the deranged story gets increasingly disturbing as it progresses, and oddly sexy as it throws in all sorts of bravado and power games. And the final scene will echo in your mind for quite a while. [18 themes, drugs, violence, sex, language] 3.Feb.04

THE TESTAMENT OF DR MABUSE [Das Testament des Dr. Mabuse]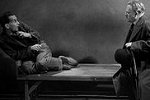 dir Fritz Lang • scr Fritz Lang, Thea von Harbou
with Otto Wernicke, Oscar Beregi, Gustav Diessl, Wera Liessem, Rudolf Klein-Rogge, Karl Meixner, Klaus Pohl, Georg John, Hadrian Maria Netto, Camilla Spira, Rudolf Schundler, Theodor Loos
release Hungary 21.Apr.33 (premiere), Germany 24.Aug.51; reissue UK 22.Mar.04 dvd • 33/Germany 1h56


REVIEW BY RICH CLINE

Fritz Lang's suspense masterpiece starts with a kick and then piles on the subterfuge, suspense and terror! It's a brilliantly well-made film that looks absolutely gorgeous; the DVD transfer is so sharp you can't believe the film's 70 years old. And you can see clearly how Lang's work influenced the likes of Alfred Hitchcock (juggling elements to produce maximum suspense) and David Lynch (freaky ghostliness, including a curtained room with an otherworldly boss).
Looking into a series of violent crimes, the bull-dog like Inspector Lohmann (Wernicke) finds that all clues point to the criminal mastermind Dr Mabuse (Klein-Rogge), who's now completely mad and locked up in an asylum under the watchful eye of the arrogant Professor Baum (Beregi). In his ravings, Mabuse is writing a guidebook for violent criminals--shootings, robberies, counterfeiting, fire-bombings--all of which are actually happening in the city. And they don't stop after Mabuse is found dead in his cell! Meanwhile, we meet a young member of the crime gang: Tom (Diessl) is starting to mistrust the mysterious boss who runs things from behind a curtain. And he's also falling for a girl named Lilli (Liessum), who hasn't a clue what's really going on.


This is shocking and mesmerising moviemaking, as Lang punches all the right notes with throw-away moments of humour and violence, as well as subplots involving insanity, romance, evil henchmen, scary scientists, hothead gunmen and cheap floozies! It's an extremely complex plot, but it hangs together perfectly as long as you pay attention (the subtitles excellently convey the off-handed and lively dialog). But it's so expertly designed and filmed that you can't get bored! The film is packed with warped little touches and inventive effects. For example, the fiery, unsettling, siren-filled climax is followed by a chase scene that was the first to use all the tricks we see in every thriller today--train crossings, slow lorries, even a flat tyre--as the scruffy heroes pursue the haunting, haunted baddie! Amid all this there's a surprisingly passionate and twisted love story developing between Tom and Lilli. It's simply fantastic, and no one has a clue why the Nazis banned it for nearly 20 years.... [12 themes, violence, language] 23.Mar.04

TO RUSSIA ... WITH ELTON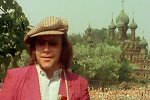 dir Dick Clement, Ian La Frenais
with Elton John, Ray Cooper, Robert Hilburn, Michael Binion, Jum Gallagher
25th anniversary reissue UK 13.Mar.04 dvd • 79/UK 1h15


REVIEW BY RICH CLINE

Back in 1979 Elton John became the first Western musician to perform in the Soviet Union, and this extremely well-produced documentary follows him to St Petersburg (then Leningrad) and Moscow as he discovers a surprisingly strong black-market fan base! It's a combination of a concert film and a rare exploration of Soviet society in the 1970s, as the film crew chats with John and his drummer Cooper about their impressions and experiences, then also interviews the fans, the Russian organizers, visiting journalists and others. Surprises emerge around ever corner, simply because no one knows much about each other.
The film is energetic and pacey, with a perfect balance between the talking, travelogues, political comments and music. It also benefits from John's slightly comical, almost Monty Python type of absurd humour! This is the pre-glam Elton--no zany glasses--although with his huge hair, flat cap, high heels and rather colourful clothing he hardly blends in! He's also at the very peak of his stardom, and we get to see youthful versions of Your Song, Benny and the Jets, Rocket Man (edited with clips of the Yuri Gagarin monument), Pinball Wizard, Daniel, Saturday Night's Alright for Fighting and Funeral for a Friend in concert; a funky and rhythmic Heard it Through the Grapevine at a St Petersburg restaurant; Candle in the Wind in a Moscow TV studio. And several excellent tunes that have fallen outside the normal greatest hits collections.
Along the way, John's unscripted comments are insightful and personal--this had never been done before, and he shows a nice willingness to just go with it wherever it takes him! He observes things like Soviet secret service agents keeping the audience members under control, while an audience who officially had never heard of him responds specifically to songs they know only from underground tapes. There are also some terrific tourist segments in both cities. And it's all expertly filmed and edited, both to catch John's personality and comments as well as the situation around them. It feels almost effortless in this sense, which makes it all the more remarkable. And valuable! [mild themes] 9.Mar.04